Steven Cohen, executive director of Columbia University's prestigious Earth Institute, recently weighed in on the carbon-tax debate in the Huffington Post. The results are breathtaking – and not in a good way.
Cohen's June 8 screed, "A Carbon Tax Is Not Feasible or Practical," was a riposte to a New York Times editorial two days earlier endorsing a carbon tax as "one of the best policies available" to address global warming. The Times is wrong, says Cohen, as he proceeds to lay out a multi-count indictment. Among his anti-CT arguments are the following:
1. Carbon taxes are politically infeasible: Given the system's deep hostility to tax hikes, "the space between the carbon tax as a policy idea and the reality of American politics is too vast to overcome. For better or worse, here in America we are in a period of tax policy paralysis that is unlikely to be surmounted anytime soon."
2. Carbon taxes are unfair: They "cause people on the lower end of the economic ladder to pay a higher portion of their income on energy," while corrective measures aimed at redistributing the costs "are far from simple to implement, might stigmatize recipients, and would become easy and obvious political targets."
3. Contrary to The Times, carbon taxes are unequal to the problem of climate change because they would founder on the shoals of international politics: "China and India would need to go along, and given the urgency of their energy and development needs, it is difficult to imagine that they would agree to such a measure."
4. Carbon taxes are anti-urban: "I sometimes think the push for a carbon tax comes out of an early 20th century environmentalist mindset that scolds people for consumption and living in evil, immoral cities."
5. Finally, carbon taxes are unnecessary since tax breaks can be just as easily used to encourage alternative energy development: "Why waste time and effort on an infeasible policy that will never happen? Why not devote time and effort to building a real partnership between the public and private sector to create a sustainable economy?"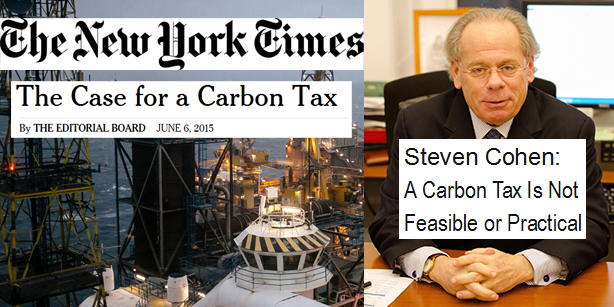 Careful readers will notice that the first two items are variations on a theme, which is to say the futility of relying on the U.S. political system to pass a well-crafted carbon-tax plan that discourages fossil fuels without burdening workers and the poor. The same can be said for number three, which is about the inability of a beggar-thy-neighbor international system to institute significant reform. Whether the fault lies with Washington, Beijing, or New Delhi, Cohen argues, the point remains that politicians of all nationalities are too selfish and shortsighted to deal intelligently with a carbon tax, so it's best to forget the whole thing.
Charges four and five are different, so let's tackle those first. [Read more…]