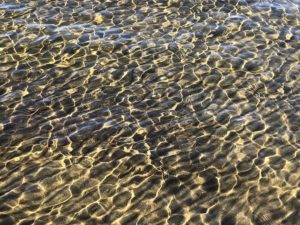 This new page, added in 2020 spring, reprints articles about the pandemic that touch on the climate crisis and the future of our species. These first selections, by a NY Times columnist and critic of Silicon Valley, an acclaimed author of "speculative fiction," a renowned environmental economist, and an attorney specializing in energy projects, are particularly evocative and wide-ranging.
*   *   *   *   *   *   *   *   *   *   *   *   *   *   *   *   *
The Bay Area Billionaires Are Breaking My Heart: Looking for hope in San Francisco, by Farhad Manjoo
The Coronavirus Is Rewriting Our Imaginations, by Kim Stanley Robinson
Freedom or Protection in Times of Plague — Some Reflections on the Swedish Covid Policy, by Thomas Sterner
From Climate to Covid, and Back Again, by Andrew Ratzkin
[See also Can This Pandemic Spur Climate Action?, by Charles Komanoff & Christopher Ketcham, published on April 4 as a CTC blog post (and on the same day, in The Intercept)]

Write us at info@carbontax.org to suggest your own candidate post.
*    *   *   *   *   *   *   *   *   *   *   *   *   *   *   *   *   *   *   *
The Bay Area Billionaires Are Breaking My Heart, by Farhad Manjoo (May 13)
Looking for hope in San Francisco
New York Times opinion columnist Farhad Manjoo, who reports on Bay Area politics, culture and tech wars, captured the poles of optimism and defeat, possibilities and realities, in this NYT Sunday review piece.
One sun-drenched afternoon last month, I took a long solo bike ride through the San Francisco Bay Area. I rode from my home to Mountain View, near the once-desolate stretch of marsh that Google has leased from NASA to build a monumental new campus. It looks like a collection of lunar bases made out of origami.
Construction has been paused under lockdown, and on the fetid plains surrounding the million-square-foot project, birds sang and wildflowers painted the horizon, and the trails that run beside the site were packed to socially distant capacity with masked families on foot and wheel.
Bicycles and pets, not sirens and fridge-truck morgues, have become the unlikely icons of the pandemic in the Bay Area. Bike shops and animal shelters say they've been inundated with demand. With the streets free of cars and full of people, the air clean, the cavernous office buildings empty and their endless parking lots turned into carefree pedestrian plazas, you'd be forgiven for mistaking some areas of Silicon Valley under lockdown for outtakes from the "The Good Place."
On my way to the Google lunar landing base, I passed by Santiago Villa, one of the area's few remaining mobile-home parks. It was built in the 1960s as an affordable retirement community. In January, its residents, who rent the space on which their mobile homes stand, petitioned the City Council to include trailer parks in Mountain View's rent-control rules.
They're worried that wealthy Googlers looking for a kitschy pied-à-terre near the new campus will push them out. The anger has been rising. Last year, the same City Council prohibited RVs and trailers — many of them used as homes — from parking on the street; a petition to overturn the RV ban will be on the ballot in November.
But as I rode past Santiago Villa, all that rancor felt like a remnant of the Before Time. Everything was quiet — then, from one of the trailers, a jolly trumpet began blowing loud and out of tune.
It was then that I first had the ghoulish idea: Could the coronavirus have an upside, at least in this one place? What if the pandemic and its aftermath lead Googlers and trailer park residents to find common cause? What if, after the virus, the Bay Area's wealthy gained a new appreciation for those who live on its edges, and finally made room for them in this digital wonderland?
I have lived in the Bay Area for almost 20 years, and for most of that time, I've felt this place creaking steadily into uninhabitability for all but the wealthiest few. We have one of the world's highest concentrations of billionaires, and yet we have not been able to marshal our immense wealth and ingenuity against our most blatant and glaring challenges — including the lack of affordable housing and entrenched homelessness.
But in this crisis, the Bay Area's response was an unexpected success. And that has given a lot of people, including me, new hope about what's possible. Yes, it sounds hokey, but this might be a time for hokeyness.
The first big moment came on March 16, when the six counties around the San Francisco Bay ordered the first shelter-in-place rules in the United States. Google, Apple, Facebook and other large employers fell right into step; they ordered all of their employees to work from home, setting the pace for most other local businesses to close up shop. And the tech giants set an important example — they made a commitment to keep paying their on-site service workers, even if they could no longer come on-site to work.
San Francisco, Oakland and San Jose secured thousands of hotel rooms for homeless people, away from the streets and the risk of the virus in crowded shelters. Cities opened their streets to pedestrians and bicycles and closed them to cars. Perhaps most important, officials in the area were the picture of calm leadership.
When I despaired about our national failures, I found myself tuning into hear the plain-spoken exhortations of San Francisco's mayor, London Breed. "This is going to take all of us," Breed told the city late in March. "This is going to take all of us coming together and sacrificing so that we get through this."
And it worked. Thanks to some combination of early action, collective adherence to public health guidelines, a concerted effort to help the vulnerable, and perhaps just blind luck, mass death missed the Bay. By the start of May, fewer than 30 people had died of Covid-19 in San Francisco; in the greater Bay Area, deaths stand around 350.
The toll is probably an undercount, and blacks and Latinos are disproportionately represented in it. Still, compared to many American metropolitan areas, this ranks as a near miracle. San Francisco's death rate of four per 100,000 residents is one-fourth the rate in Los Angeles, a fraction of the national average, and nowhere near New York's.
In the absence of mass death, people around here have had time and psychic space to imagine longer-term possibilities. If we could band together so quickly to beat the virus, making so many big changes so seamlessly, what else are we capable of doing?
I was not alone in my vague sense of optimism.
In an article that went viral among techies last month, the venture capitalist Marc Andreessen characterized the pandemic as a call to arms to rebuild American institutions, including our cities. Like many of the Valley's tech princes, Andreessen has often been skeptical of government and its champions, but now here he was, cheering them on: "Demonstrate that the public sector can build better hospitals, better schools, better transportation, better cities, better housing," he wrote. "Stop trying to protect the old, the entrenched, the irrelevant; commit the public sector fully to the future."
I heard a similar urgency for grand reform from nearly every Bay Area official, activist and resident I spoke to — even those who had clashed with the tech industry or those whose fights earlier seemed unwinnable.
Libby Schaaf, the mayor of Oakland, opened up 74 miles of city streets for pedestrians and moved hundreds of homeless people into hotels. She saw the crisis as an opportunity to make permanent improvements.
One example: Schaaf required that the hotels which the city paid to house the homeless during the pandemic offer the city long-term leases. "I do not want, at the end of the health emergency, to turn homeless people back out onto the streets," she said.
In April, Ro Khanna, who represents parts of Silicon Valley in the House, introduced legislation to provide greater pay, health care and labor protections to workers deemed "essential" during the pandemic. "When we talk about who are the 'essential workers,' very few people are saying it's lawyers or middle or senior management," Khanna said. "They're saying, we want the person who's delivering our groceries, the person who's keeping the internet open, the electricity flowing, or the person who's taking care of our kids."
In a similar way, the crisis illustrated the importance of keeping everyone healthy — even people who lack a place to live. "Housing is health care," explained Abigail Stewart-Kahn, director of the San Francisco Department of Homelessness and Supportive Housing. "That's something, in my field, that people have been saying for a long time." Now, the connection was inescapable — people who lacked housing were also outside of the health care system, and during a pandemic, their presence on the streets created a risk for everyone else in the city. "What this has shown us all is that everyone's health is intertwined," she said.
These were all officials and experts — people who might be biased toward finding "silver linings" in any crisis. But was anything really changing for homeless people around the Bay Area? I contacted several homeless people who have been placed in hotels during the pandemic. They spoke rapturously about their sudden fortune in an otherwise grim time.
"Oh my God — I can really breathe and be myself." That was the reaction from a 33-year-old woman who had been living in a hotel for weeks with her 12-year-son. She asked me not to use her name. Before the virus, they had spent years bouncing from couch to couch around the Bay. Under lockdown, their lives were, in many ways, freer than before. For the first time in years, she no longer felt that crushing dependence on other people. "I can move as the adult I am, and no one dictates what I do or how I move," she told me.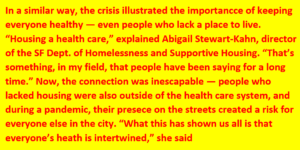 The hotel room has two beds and a private bathroom. It was starting to feel like a studio apartment — like a kind of home, she told me. "I only wish we could have a deep fryer." It is only guaranteed for three months, but she has begun to see the possibility of a new life in the uncertain distance: "I just know that I am on my way to my place."
As the weeks of lockdown dragged on, San Francisco began to break my heart again. While the number of coronavirus cases and deaths remained low, the full gloom of the coming recession began to descend into view, and with it, the same ageless, endless political squabbles. The basic problem is that despite the region's apparently limitless wealth, there were not enough ready resources available to public officials to reach everyone in need. And in the absence of more help from the state and the federal government, or from the region's billionaires, the Bay Area's needs simply outmatched its capacity to meet them.
Even after the huge effort to move people into hotels, there are still thousands of homeless people on the Bay Area's streets, and little prospect that many will be housed anytime soon. My hopes for inspiring leadership began to fall apart when a fight broke out recently between San Francisco's Board of Supervisors and the mayor over how many more homeless people the city could house.
The board passed an ordinance to secure 7,000 hotel rooms for homeless people who are now on the street, but the mayor refused to comply. She said it was impossible; the city is straining against its limit already. So far, San Francisco has placed 965 homeless people in hotel rooms, and has signed contracts for 2,731 rooms for homeless people and essential workers.
This fight hinges on the usual things — money, willpower, staffing and basic municipal capacity. But it also lays bare how ephemeral our coronavirus-inspired unity may be. "To the extent we have restored faith in what is possible, we have also underscored, sadly, our city's limitations," Matt Haney, a member of the Board of Supervisors, told me.
When I asked the mayor about her dispute with the supervisors, she was cordial but clearly annoyed. Annoyed that the supervisors hadn't considered the limits on the city's capacity. Annoyed that she agreed with them — more homeless people could be taken off the streets if only she had the funds or the people to make it happen.
The federal government has promised to reimburse cities for part of the cost of housing the homeless, but Breed says she is not sure whether those funds will come through. "There's a huge difference between what we all want, which is to get every homeless person off the street, and reality," she said.
And instead of bringing the region's wealthy and its needy together, she suggested that the pandemic might pit the less needy against the more needy. "I think many people are like, 'Well, wait a minute — I lost my job where I was making minimum wage. I can't pay my rent. I can barely eat. Where's my help from the city?'" Breed said.
When I asked if the virus had created much political room for bold action to address inequality, she said, "It's going to make it even harder."
Is this really the best the city can do? The further we move from the initial crisis, the crazier my bike-riding optimism now sounds. Rather than fostering some new sense of civic unity, the virus is just as likely to worsen inequality further.
Margot Kushel, a physician and scholar of homelessness at the University of California, San Francisco, suggested that this was the "nightmare scenario" for inequality in San Francisco: low-income jobs disappear, so more people lose their homes, but because the tech industry keeps doing well, home prices remain high, and housing slips further out of reach for everyone else. "Those who are housed are fully aware that they're one thread away from losing that housing," Kushel said.
San Francisco and other Bay Area cities have imposed temporary moratoriums on evictions caused by virus-related economic disruptions. But those will expire later in the year, at which time a wave of tenants may be kicked out of their homes unless they can pay months of back rent. At the same time, the virus has given more political ammo to those NIMBYs who have long opposed urban density and blocked the construction of more housing.
All is not lost. I do feel a renewed sense of pride and possibility about the Bay Area — the way our leaders responded to the virus did strengthen my faith in our local institutions, and we certainly seem better equipped to address long-term challenges than I once thought we were.
There might still be a window for substantive action: Our local governments can use the new leverage to push for bold ideas — among other policies, a plan for rent relief, rather than simply an eviction moratorium, so that more people don't lose their housing.
I'm also waiting on the city's billionaires to open up new floodgates of generosity, at least for mitigating the immediate pain of the crisis. Jack Dorsey, the chief executive of Twitter and Square, recently pledged $1 billion to coronavirus relief; but of the nearly 100 billionaires reportedly living in the Bay Area, only a handful have donated to the city's coronavirus relief fund. Mary Kate Bacalao, the director of external affairs at Compass Family Services, a nonprofit group that helps homeless families, told me that with a few big checks, the Bay's wealthiest could instantly make a difference.
But I wouldn't be surprised if we — the people of the Bay Area, our lawmakers, our billionaires and our ordinary, overburdened citizens — end up squandering this moment. Rebuilding a fairer, more livable urban environment will take years of difficult work. It will require sacrifices from the wealthy. It will require a renewed federal interest in addressing the problems of cities. It will require abandoning pie-in-the-sky techno-optimism.
This isn't a problem that will be solved by flying cars; it will be solved by better zoning laws, fairer taxes and, when we can make it safe again, more public transportation. We will have to commit ourselves to these and other boring but permanent civic solutions.
I'm hopeful we're up to the task. We cannot go back to the way things were. But as the immediate danger of the pandemic recedes, it will be all too easy for many of us to do exactly that.
*    *   *   *   *   *   *   *   *   *   *   *   *   *   *   *   *   *   *   *
The Coronavirus Is Rewriting Our Imaginations, by Kim Stanley Robinson (May 1)
What felt impossible has become thinkable. The spring of 2020 is suggestive of how much, and how quickly, we can change as a civilization.
This penetrating, lyrical article in The New Yorker magazine by celebrated speculative-fiction writer Robinson (Mars Trilogy, New York 2140 and many other works)  offers cautious optimism that the new "structure of feeling" sparked by the pandemic might lead humanity to finally address climate change with full force. 
The critic Raymond Williams once wrote that every historical period has its own "structure of feeling." How everything seemed in the nineteen-sixties, the way the Victorians understood one another, the chivalry of the Middle Ages, the world view of Tang-dynasty China: each period, Williams thought, had a distinct way of organizing basic human emotions into an overarching cultural system. Each had its own way of experiencing being alive.
In mid-March, in a prior age, I spent a week rafting down the Grand Canyon. When I left for the trip, the United States was still beginning to grapple with the reality of the coronavirus pandemic. Italy was suffering; the N.B.A. had just suspended its season; Tom Hanks had been reported ill. When I hiked back up, on March 19th, it was into a different world. I've spent my life writing science-fiction novels that try to convey some of the strangeness of the future. But I was still shocked by how much had changed, and how quickly.
Schools and borders had closed; the governor of California, like governors elsewhere, had asked residents to begin staying at home. But the change that struck me seemed more abstract and internal. It was a change in the way we were looking at things, and it is still ongoing. The virus is rewriting our imaginations. What felt impossible has become thinkable. We're getting a different sense of our place in history. We know we're entering a new world, a new era. We seem to be learning our way into a new structure of feeling.
In many ways, we've been overdue for such a shift. In our feelings, we've been lagging behind the times in which we live. The Anthropocene, the Great Acceleration, the age of climate change — whatever you want to call it, we've been out of synch with the biosphere, wasting our children's hopes for a normal life, burning our ecological capital as if it were disposable income, wrecking our one and only home in ways that soon will be beyond our descendants' ability to repair. And yet we've been acting as though it were 2000, or 1990 — as though the neoliberal arrangements built back then still made sense. We've been paralyzed, living in the world without feeling it.
Now, all of a sudden, we're acting fast as a civilization. We're trying, despite many obstacles, to flatten the curve — to avoid mass death. Doing this, we know that we're living in a moment of historic importance. We realize that what we do now, well or badly, will be remembered later on. This sense of enacting history matters. For some of us, it partly compensates for the disruption of our lives.
Actually, we've already been living in a historic moment. For the past few decades, we've been called upon to act, and have been acting in a way that will be scrutinized by our descendants. Now we feel it. The shift has to do with the concentration and intensity of what's happening. September 11th was a single day, and everyone felt the shock of it, but our daily habits didn't shift, except at airports; the President even urged us to keep shopping. This crisis is different. It's a biological threat, and it's global. Everyone has to change together to deal with it. That's really history.
It seems as though science has been mobilized to a dramatic new degree, but that impression is just another way in which we're lagging behind. There are 7.8 billion people alive on this planet — a stupendous social and technological achievement that's unnatural and unstable. It's made possible by science, which has already been saving us. Now, though, when disaster strikes, we grasp the complexity of our civilization — we feel the reality, which is that the whole system is a technical improvisation that science keeps from crashing down.
On a personal level, most of us have accepted that we live in a scientific age. If you feel sick, you go to a doctor, who is really a scientist; that scientist tests you, then sometimes tells you to take a poison so that you can heal — and you take the poison. It's on a societal level that we've been lagging. Today, in theory, everyone knows everything. We know that our accidental alteration of the atmosphere is leading us into a mass-extinction event, and that we need to move fast to dodge it. But we don't act on what we know. We don't want to change our habits. This knowing-but-not-acting is part of the old structure of feeling.
Now comes this disease that can kill anyone on the planet. It's invisible; it spreads because of the way we move and congregate. Instantly, we've changed. As a society, we're watching the statistics, following the recommendations, listening to the scientists. Do we believe in science? Go outside and you'll see the proof that we do everywhere you look. We're learning to trust our science as a society. That's another part of the new structure of feeling.
Possibly, in a few months, we'll return to some version of the old normal. But this spring won't be forgotten. When later shocks strike global civilization, we'll remember how we behaved this time, and how it worked. It's not that the coronavirus is a dress rehearsal — it's too deadly for that. But it is the first of many calamities that will likely unfold throughout this century. Now, when they come, we'll be familiar with how they feel.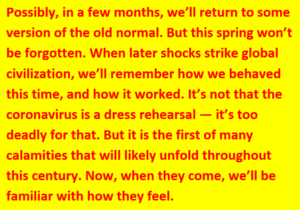 What shocks might be coming? Everyone knows everything. Remember when Cape Town almost ran out of water? It's very likely that there will be more water shortages. And food shortages, electricity outages, devastating storms, droughts, floods. These are easy calls. They're baked into the situation we've already created, in part by ignoring warnings that scientists have been issuing since the nineteen-sixties. Some shocks will be local, others regional, but many will be global, because, as this crisis shows, we are interconnected as a biosphere and a civilization.
Imagine what a food scare would do. Imagine a heat wave hot enough to kill anyone not in an air-conditioned space, then imagine power failures happening during such a heat wave. (The novel I've just finished begins with this scenario, so it scares me most of all.) Imagine pandemics deadlier than the coronavirus. These events, and others like them, are easier to imagine now than they were back in January, when they were the stuff of dystopian science fiction. But science fiction is the realism of our time. The sense that we are all now stuck in a science-fiction novel that we're writing together — that's another sign of the emerging structure of feeling.
Science-fiction writers don't know anything more about the future than anyone else. Human history is too unpredictable; from this moment, we could descend into a mass-extinction event or rise into an age of general prosperity. Still, if you read science fiction, you may be a little less surprised by whatever does happen. Often, science fiction traces the ramifications of a single postulated change; readers co-create, judging the writers' plausibility and ingenuity, interrogating their theories of history. Doing this repeatedly is a kind of training. It can help you feel more oriented in the history we're making now. This radical spread of possibilities, good to bad, which creates such a profound disorientation; this tentative awareness of the emerging next stage — these are also new feelings in our time.
Memento mori: remember that you must die. Older people are sometimes better at keeping this in mind than younger people. Still, we're all prone to forgetting death. It never seems quite real until the end, and even then it's hard to believe. The reality of death is another thing we know about but don't feel.
So this epidemic brings with it a sense of panic: we're all going to die, yes, always true, but now perhaps this month! That's different. Sometimes, when hiking in the Sierra, my friends and I get caught in a lightning storm, and, completely exposed to it, we hurry over the rocky highlands, watching lightning bolts crack out of nowhere and connect nearby, thunder exploding less than a second later. That gets your attention: death, all too possible! But to have that feeling in your ordinary, daily life, at home, stretched out over weeks — that's too strange to hold on to. You partly get used to it, but not entirely. This mixture of dread and apprehension and normality is the sensation of plague on the loose. It could be part of our new structure of feeling, too.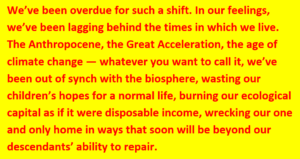 Just as there are charismatic megafauna, there are charismatic mega-ideas. "Flatten the curve" could be one of them. Immediately, we get it. There's an infectious, deadly plague that spreads easily, and, although we can't avoid it entirely, we can try to avoid a big spike in infections, so that hospitals won't be overwhelmed and fewer people will die. It makes sense, and it's something all of us can help to do. When we do it — if we do it — it will be a civilizational achievement: a new thing that our scientific, educated, high-tech species is capable of doing. Knowing that we can act in concert when necessary is another thing that will change us.
People who study climate change talk about "the tragedy of the horizon." The tragedy is that we don't care enough about those future people, our descendants, who will have to fix, or just survive on, the planet we're now wrecking. We like to think that they'll be richer and smarter than we are and so able to handle their own problems in their own time. But we're creating problems that they'll be unable to solve. You can't fix extinctions, or ocean acidification, or melted permafrost, no matter how rich or smart you are. The fact that these problems will occur in the future lets us take a magical view of them. We go on exacerbating them, thinking — not that we think this, but the notion seems to underlie our thinking — that we will be dead before it gets too serious. The tragedy of the horizon is often something we encounter, without knowing it, when we buy and sell. The market is wrong; the prices are too low. Our way of life has environmental costs that aren't included in what we pay, and those costs will be borne by our descendents. We are operating a multigenerational Ponzi scheme.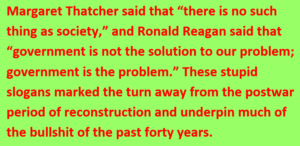 And yet: "Flatten the curve." We're now confronting a miniature version of the tragedy of the time horizon. We've decided to sacrifice over these months so that, in the future, people won't suffer as much as they would otherwise. In this case, the time horizon is so short that we are the future people. It's harder to come to grips with the fact that we're living in a long-term crisis that will not end in our lifetimes. But it's meaningful to notice that, all together, we are capable of learning to extend our care further along the time horizon. Amid the tragedy and death, this is one source of pleasure. Even though our economic system ignores reality, we can act when we have to. At the very least, we are all freaking out together. To my mind, this new sense of solidarity is one of the few reassuring things to have happened in this century. If we can find it in this crisis, to save ourselves, then maybe we can find it in the big crisis, to save our children and theirs.
Margaret Thatcher said that "there is no such thing as society," and Ronald Reagan said that "government is not the solution to our problem; government is the problem." These stupid slogans marked the turn away from the postwar period of reconstruction and underpin much of the bullshit of the past forty years.
We are individuals first, yes, just as bees are, but we exist in a larger social body. Society is not only real; it's fundamental. We can't live without it. And now we're beginning to understand that this "we" includes many other creatures and societies in our biosphere and even in ourselves. Even as an individual, you are a biome, an ecosystem, much like a forest or a swamp or a coral reef. Your skin holds inside it all kinds of unlikely coöperations, and to survive you depend on any number of interspecies operations going on within you all at once. We are societies made of societies; there are nothing but societies. This is shocking news — it demands a whole new world view. And now, when those of us who are sheltering in place venture out and see everyone in masks, sharing looks with strangers is a different thing. It's eye to eye, this knowledge that, although we are practicing social distancing as we need to, we want to be social — we not only want to be social, we've got to be social, if we are to survive. It's a new feeling, this alienation and solidarity at once. It's the reality of the social; it's seeing the tangible existence of a society of strangers, all of whom depend on one another to survive. It's as if the reality of citizenship has smacked us in the face.
As for government: it's government that listens to science and responds by taking action to save us. Stop to ponder what is now obstructing the performance of that government. Who opposes it? Right now we're hearing two statements being made. One, from the President and his circle: we have to save money even if it costs lives. The other, from the Centers for Disease Control and similar organizations: we have to save lives even if it costs money. Which is more important, money or lives? Money, of course! says capital and its spokespersons. Really? people reply, uncertainly. Seems like that's maybe going too far? Even if it's the common wisdom? Or was.
Some people can't stay isolated and still do their jobs. If their jobs are important enough, they have to expose themselves to the disease. My younger son works in a grocery store and is now one of the front-line workers who keep civilization running.
My son is now my hero: this is a good feeling. I think the same of all the people still working now for the sake of the rest of us. If we all keep thinking this way, the new structure of feeling will be better than the one that's dominated for the past forty years.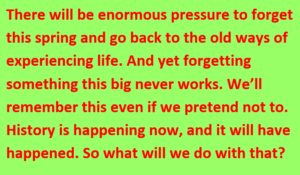 The neoliberal structure of feeling totters. What might a post-capitalist response to this crisis include? Maybe rent and debt relief; unemployment aid for all those laid off; government hiring for contact tracing and the manufacture of necessary health equipment; the world's militaries used to support health care; the rapid construction of hospitals.
What about afterward, when this crisis recedes and the larger crisis looms? If the project of civilization — including science, economics, politics, and all the rest of it — were to bring all eight billion of us into a long-term balance with Earth's biosphere, we could do it. By contrast, when the project of civilization is to create profit — which, by definition, goes to only a few — much of what we do is actively harmful to the long-term prospects of our species. Everyone knows everything. Right now pursuing profit as the ultimate goal of all our activities will lead to a mass-extinction event. Humanity might survive, but traumatized, interrupted, angry, ashamed, sad. A science-fiction story too painful to write, too obvious. It would be better to adapt to reality.
Economics is a system for optimizing resources, and, if it were trying to calculate ways to optimize a sustainable civilization in balance with the biosphere, it could be a helpful tool. When it's used to optimize profit, however, it encourages us to live within a system of destructive falsehoods. We need a new political economy by which to make our calculations. Now, acutely, we feel that need.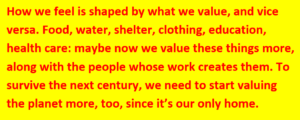 It could happen, but it might not. There will be enormous pressure to forget this spring and go back to the old ways of experiencing life. And yet forgetting something this big never works. We'll remember this even if we pretend not to. History is happening now, and it will have happened. So what will we do with that?
A structure of feeling is not a free-floating thing. It's tightly coupled with its corresponding political economy. How we feel is shaped by what we value, and vice versa. Food, water, shelter, clothing, education, health care: maybe now we value these things more, along with the people whose work creates them. To survive the next century, we need to start valuing the planet more, too, since it's our only home.
It will be hard to make these values durable. Valuing the right things and wanting to keep on valuing them — maybe that's also part of our new structure of feeling. As is knowing how much work there is to be done. But the spring of 2020 is suggestive of how much, and how quickly, we can change. It's like a bell ringing to start a race. Off we go — into a new time.

*    *   *   *   *   *   *   *   *   *   *   *   *   *   *   *   *   *   *   *
Freedom or Protection in Times of Plague — Some Reflections on the Swedish Covid Policy, by Thomas Sterner (April 24)
University of Gothenburg economist Thomas Sterner published this essay in the Collège de France under the title, "Liberté ou confinement en temps de peste." Prof. Sterner has published more than a dozen books and a hundred articles in refereed journals, mainly on environmental policy instruments with applications to energy, climate, industry, transport economics and resource management in developing countries. With Gunnar Köhlin, he founded the Environment for Development Initiative. Sterner is a recipient of the Myrdal Prize and a past president for the European Association of Environmental and Resource Economists.
« Mais le bien public est fait du bonheur de chacun. »  Albert Camus
« But the public good is made for everyone's happiness. »  
Among the most interesting questions posed by the pandemic is how to forge a viable path between the collective and the individual, between freedom and responsibility. I feel deeply divided. On the one hand, environmental economics has taught me a deep respect for public goods. I think we should take external effects seriously. I am one who believes we should protect our grandchildren's right to a clean atmosphere and force people and companies to take responsibility for their carbon dioxide emissions. After all, we might contribute to causing children to drown in Bangladesh by the end of the next century…. Of course, I also think that we should do everything possible to not infect others — and even do everything we can to support emergency care units in these times of crisis.
Thus, we have a responsibility not to become infected ourselves. During a crisis in the health care system, it is not just my business if I fall ill or not. Naturally, I think you have to accept restrictions on our freedom and comfort, even on our income and our desire to sit in a cafe too close to our friends. Nevertheless, I feel deeply uneasy about having the police check whether citizens walk with a member of the household or possibly a close friend?
Difficult to evaluate
Most citizens still seem to support their respective governments in different countries. There are many ways to interpret this. I do not want to fall blindly for the temptation to defend the Swedish policies. If we end up with disease and more deaths and a health care system strained beyond hope and into chaos, then our liberalism will have been proven fatally naive.
At the same time, I want to point out that I am very careful about not drawing conclusions too fast. The basic process in the initial spread of the virus is exponential growth. It does not take much mathematical insight to realize that it is difficult to compare the number of deaths per million inhabitants in different countries. It is very difficult to know what the results of different strategies are, given that the time dimension is so dramatically important. A difference of a week or two in the process can mean a huge difference in the number of patients or the number of deceased. Of course, socio-economic and cultural factors are also of great importance: how close to each other you live and travel, whether you kiss each other on the cheek and whether you live together over the generations.
Still, this issue is already hotly debated. Sweden may indeed have fewer cases and deaths than France or Italy, but it has more than neighboring countries which is perhaps the best comparison. As I said, we must be very careful for the reasons I stated above. In addition, one must take a long run view: if a country has less death rates, this can be temporary. The question is how and if there will be a second wave and when or if vaccines become available. Finally, we measure differently, test to very different extents and register the deaths outside the healthcare completely differently. This may be the case, for example, for elderly patients who die and have a cough, but have not been tested. This can play a very important role. We have a lot of regional variation. Large parts of Sweden have a similar spread to our neighboring countries — it is mainly Stockholm that has significantly more cases. The differences between regions are so great that it contradicts the idea that national strategies would be a key determinant. Maybe population density is more important?
Cold and empty: Swedes are already experts on social distancing

One should not exaggerate the differences between the measures in Sweden and, for example, France. Sweden is already characterized by a fairly high degree of "social distancing" in normal circumstances. We have low population density, mainly small cities, and social norms with relatively little human crowding. We have a cold climate (at least during months like February, March and April many prefer to stay indoors), and also a culture of equality, a high level of education and a well documented trust in authorities. These factors probably lead to lower risk in a country like Sweden compared to the Netherlands or England. The fact that people trust authorities and largely follow advice also means that the public authorities do not need to use very coercive measures.
Decentralized, science-based and expert-driven
In the United States, President Trump holds an hour-long press conference every day while Dr. Fauci stands in the background. In Sweden, a public health expert holds the entire press conference with his colleagues.
Axel Oxenstierna (AO) was Chancellor of the State and in practice regent in the 17th century and is said to have founded the strong Swedish public administration. (It could be mentioned in passing that he and Cardinal Richelieu were the hub of the coalition against the Habsburgs during the Thirty Years' War, and negotiated with each other in Compiègne outside Paris. Richelieu wanted to speak French, Oxenstierna replied that he would then speak Swedish — so they decided on Latin.) AO designed a strong state administration with considerable power for regional and local government and with a well trained civil service.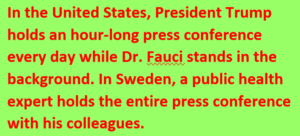 Sweden still has a uniquely strong decentralization. For example, almost all income tax is decided and managed at the municipal level. "Ministerial rule" in Sweden is a sin. Ministers (including the prime minister) are only supposed to lay down general principles and are expressly forbidden from deciding individual cases — which are to be decided by government officials. (Trump once called Prime Minister Löfven and wanted him to pardon and release the American rapper ASAP Rocky, and could not understand when Löfven said that he could not possibly meddle into such a case). It is difficult to generalize on constitutional issues but it seems that Sweden has a uniquely high degree of decentralization, expert and administration control. At the political level, Parliament also has relatively more power compared to the government (especially as we now have a weak minority government).
So part of the reason the Swedish state has not acted more resolutely with lock downs may be that the government did not feel it had very clear authority to act. It seems we were not legally well prepared and did not have the ability to declare a sufficiently strong state of emergency in peacetime. The main reason for the relatively soft-spoken policies is probably that the decision makers wanted to educate and convince citizens rather than order or force them. The experts who made the decisions or in any case had a considerable influence over them believe that this strategy is more sustainable if the pandemic lasts for a long time (Tegnell 2020).
The Swedish debate
We should not exaggerate the differences between countries. The Swedish strategy also involves restrictions and social distancing. Universities and (senior) schools are closed but not elementary or preschools. Cafes remain open but have instructions to be less crowded than usual. The construction industry continues, companies make their own decisions, they (like Volvo) are more often closed due to a collapse of global supply chains rather than because of political decisions.
Personally, I spend almost all my time at home! But I don't complain because I enjoy working 12 hours a day on the sofa with my computer. In fact, I also have the opportunity to go out and meet my friends, my children and my grandchildren and take a walk in the park.
All in all, the Swedish authorities enjoy a fairly high level of support, which does not mean that there is no debate. A few days ago, 22 prominent medical researchers wrote a very critical article in the largest Swedish daily newspaper, claiming that the country's politics were a failure, that the deaths were too high compared to the Nordic neighboring countries. However, the debate that followed was very critical of this article and emphasized that they had cherrry-picked their examples and data that favored their views and that their analysis was therefore biased. Still there are also others who are critical concerning the relatively lax shutdown. Assuming it is correct that we did less damage to the economy but suffered somewhat more cases of illness and death then the evaluation of this will probably depend on how fast a vaccine (or cure) becomes available. If this is very soon then we may have had unnecessarily many deaths. If on the other hand the vaccine/cure takes years then we may have a very large benefit of having achieved partial herd immunity faster than others. It is probably too early to say.
In any case, it seems that Sweden, like other countries, has made some clear mistakes. To name a few: we did not test enough people, the authorities reacted too late and did not always succeed in communicating in an educational or transparent way, serious mistakes were made in the protection of the elderly and shortcomings in the care staff's skills and protective equipment explain the large number of people who are infected and die among our elderly. Some debaters see this development as a consequence of waves of deregulation and privatization in the elderly care sector. Finally, the authorities have also been slow to close a couple of skiresorts and information for newly arrived migrants has been inadequate.
Swedish hospitals have no doubt been under heavy pressure, but are still far from the chaotic situation in northern Italy. Even in Stockholm, it is said that there is still available (spare) capacity in intensive care. Anecdotally, however, it seems however that one must be much sicker to be admitted to the intensive care units now than in ordinary times. Definitive assessments will have to wait extensive comparative studies in the future.
Economic policy
It is also premature to assess the effects of the measures taken to counteract the adverse economic consequences of the pandemic. Among the positive points, it is generally argued that Sweden is well  equipped to cope with economic crises thanks to, among other things, rapid and fact-based decision-making, experts with influence and a broad consensus based on social dialogue. In this crisis, politics has been characterized by broad political consensus. While the United States unemployment rate raised by 22 million in four weeks, measures for lay-offs were quickly negotiated in Sweden (and in many European countries), as well as tax cuts (employer contributions, VAT, rents, etc). Similarly, various forms of support for households and businesses were implemented reasonably fast. Measures taken like layoffs are progressively implemented and shaped through a developed social dialogue, based on negotiations between the state, trade unions and employers. This has helped minimize financial damage, but again there are of course also critical voices (from opposition parties).
The authoritarian threat
The current crisis has horrific consequences. Naturally, exceptional measures may be justified including restrictions on individuals for the benefit of society. However, one must be very vigilant. Crises also offer opportunities for evil forces. The Mafia has strengthened its positions in Italy. Some leaders gladly take the chance to postpone elections, postpone trials or even enact laws to increase their own executive power. Even before this pandemic, authoritarian trends were on the rise in several countries. The development of modern technology, GPS tracking of the individual, tracing of mobile phones and face recognition through surveillance cameras, offers unmatched opportunities for political leaders or movements that are in some cases openly xenophobic and fascist. Orwell and Huxley have never been more up-to-date.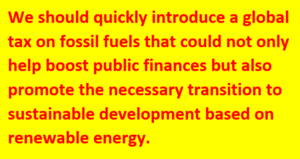 We need to be extremely careful as these movements can develop very quickly. There is a demand for public action, but it is far better to make forceful and well grounded decisions like strengthening research or public hospitals or reducing the number of home care providers that visit each elderly person and providing them with adequate training and protection than to order the police to check the general population and fine those who are not carrying the correct forms or documents.
Of course, our everyday freedom may need to be restricted, but it must be done with great caution and for a limited time. The economy must recover, and here too, transparency and social justice must guide the use of public resources. Huge sums of money are being spent in a very short period of time and there is a clear risk that they will be spent corruptly or inefficiently and mainly benefit the rich and those who have the best lobbyists. I have written in other contexts (Financial Times, Nature Sustainability Blog) about the importance of not wasting all the the public funds should on save oil companies and airlines. Trump is trying to save his friends' investments by talking up the international oil prices. He has almost made the USA an OPEC member – at least in practice: The US has promised to lower oil production to help the oil cartel. This is deplorable. Instead, we should quickly introduce a global tax on fossil fuels that could not only help boost public finances but promote the necessary transition to sustainable development based on renewable energy.
*    *   *   *   *   *   *   *   *   *   *   *   *   *   *   *   *   *   *   *
From Climate to Covid, and Back Again, by Andrew Ratzkin (May 2)
In this op-ed published in the Albany Times-Union as Virus' collective threat, the author, an energy-sector lawyer who serves on the Westchester County Climate Smart Communities Task Force, draws lessons for climate challenges from the Covid pandemic.
No one's talking much about climate change lately. We have a lot on our minds.
But climate's not going away as an issue, even though emissions have temporarily dropped steeply. The climate will not stop warming, and spillover effects will not stop coming, just because we are distracted dealing with coronavirus.
The coronavirus was not caused by climate. Still, there are important things we can learn from the virus, and maybe have already learned, that can make a difference in how we approach climate once we are again able to focus on other things.
The coronavirus' spread and impact reveal critical shortcomings in our preparedness, and offer important lessons, directly relevant to the climate challenges to come:
Cognitive Dissonance and Magical Thinking. It's hard to envision and take seriously things that seems distant and intangible. It's harder still to confront a long-term, collective threat from an inanimate adversary, especially while you're still comfortable.
Like climate change, a pandemic once seemed to many like something that was "never going to happen" — until it did. Coronavirus awakens us to the possibility that bad things (and worst case scenarios) can actually happen. Long-term things eventually become short-term, immediate things.
Facts Matter, Science Matters. Science can tell us stuff. Science helps us detect and solve actual problems. Self-serving or delusional spin can actually hurt us, even though bravado makes for good TV. Spin — believing it and acting on it — is dangerous.
Expertise Matters. We need to listen to people who have studied problems that are not obvious without study. We don't have to uncritically accept everything experts tell us. But we should respect them, hear their analyses and warnings, and factor them into our decisions.
Prevention Matters, Preparedness Matters. We hear how expensive it is to control greenhouse gas emissions, to convert our economy so that it is not powered by fossil fuels, to build a climate-resilient infrastructure. Just like we've heard how expensive it was to maintain the pandemic unit at the National Security Council. But maybe we have learned that the cost of an exacerbated crisis far exceeds the cost of reckoning with one ahead of time.
Follow-on Effects Happen. The coronavirus caused stocks and the economy to crash. It will cause untold cultural changes. What do we think will happen when climate change really starts to bite? And, unlike coronavirus, climate effects won't present as a short-term, albeit painful, blip. When climate change hits in a big way — say, the irreversible flooding of a major city — what will be the follow-on effects for the stock market, the economy, mass migration, conflict? Consequences can be as severe, or more so, than the initial cause.
Some Problems Are Global. If coronavirus couldn't be prevented from reaching our shores, what about changes in the climate? Global problems require global solutions and international cooperation.
Politics Can Change Fast. Look how fast the Trump administration shifted from denying that the coronavirus was anything more than a liberal media hoax to relishing a "wartime" presidency. Look how fast the Republican Senate became a hotbed of Keynesianism.
Maybe, just maybe, the suspicion that, just like coronavirus, climate is not a hoax after all, nor a conspiracy serving a political agenda, will open some minds. Maybe more will listen to calls to redouble our efforts to prevent as much of the impending climate crisis as we can, and to take measures needed to prepare for what we can't. For now, for the most part, climate change is still out there as something that will happen "one day." But that day will arrive, when something happens so terrible that everyone will at last know it's for real. When that day comes, will we be ready?
Of course, the climate crisis won't actually arrive "one" day. It's already here, if not quite yet in a form — despite wildfires, dying coral reefs, melting glaciers, changes to planting seasons, more frequent and extreme hurricanes, droughts and deluges — that evokes universal recognition.
The coronavirus will one day be behind us; the warming already baked into the atmosphere will make itself felt for decades and centuries. In that key sense, climate change is very different.