It's easy, and tempting, to cherry-pick opinion polls for results that cast an upbeat light on climate concern in general and carbon-taxing in particular. But three polls from early 2015, early 2016 and late 2016, respectively, are so scrupulous as to make their positive findings noteworthy and important.
In January 2015, political scientists at Stanford University and Resources for the Future who for years have been polling Americans on climate concern and policy commissioned the polling firm SSRS to interview 1,023 U.S. adults on climate-related issues. Perhaps because CTC had been beseeching the lead Stanford researcher (Jon Krosnick), or maybe because the time was finally ripe, SSRS included questions designed to take Americans' temperature on revenue-neutral carbon taxes. (We had explained the need for carbon-tax polling to incorporate the option of returning revenues to households; otherwise, the tax would appear as all stick and no carrot.)
The results, released in April 2015 (pdf) and reported virtually live by CTC, showed that two-thirds of Americans support making corporations pay a price for carbon pollution, provided the revenues are redistributed, i.e., made revenue-neutral. The poll's finding is the most powerful indication yet that the public is warming to carbon taxation as the premier policy for combating climate change.
Those findings are buttressed by a poll of more than a thousand registered U.S.voters conducted shortly after the 2016 national elections, between November 18 and December 1, 2016. The "Politics and Global Warming" poll performed by the Yale Program on Climate Change Communication found that
"Two in three registered voters (66%) support requiring fossil fuel companies to pay a carbon tax and using the money to reduce other taxes (such as income tax) by an equal amount – a plan often referred to as a 'revenue neutral carbon tax.' 81% of Democrats, 60% of Independents, and 49% of Republicans support this policy."
Full Yale poll here, Yale summary here, CNBC article here ("Nearly half of Republicans favor this kind of carbon tax, contrary to GOP platform"). A related publication, Climate Change in the American Mind, contains revealing details on the evolution of climate concern (but not on  carbon taxes or other possible policy responses) among Americans since 2008.
Similarly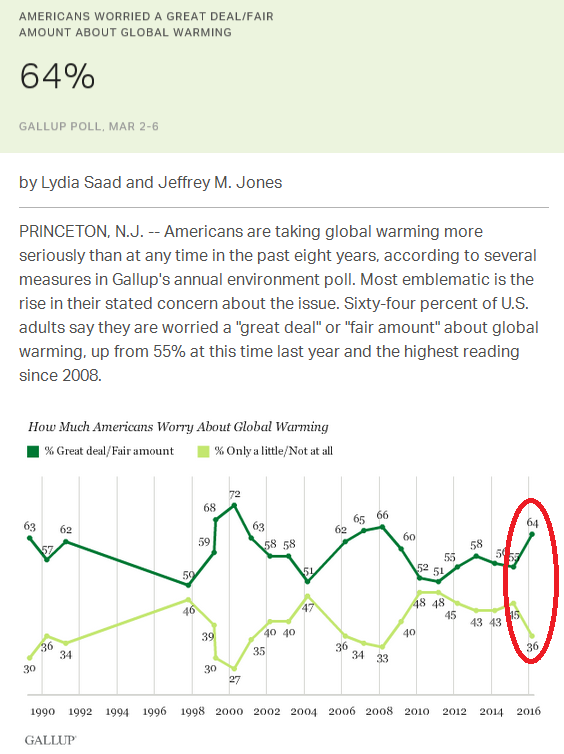 , in March 2016, nearly two-thirds (64%) of American adults told Gallup's annual environmental poll that they are worried a "great deal" or a "fair amount" about global warming. That figure is up from 55% in March 2015 and is the highest reading since 2008, according to Gallup. (See graphic at right.)
Other results from the 2016 Gallup poll are equally striking. They show a record-high share of Americans stating that climate change poses a threat to them and their way of life; a record number agreeing that climate change is caused primarily by human activity; and climate concern climbing across the political spectrum: on the left, center and right.
Other Recent Opinion Polling
Support for action to combat global warming is growing among younger Republican-leaning voters. (Washington Post poll, November 2014.)
Three fourths of Republicans support expanded support for renewable energy; only about 1/3 would support a candidate who says climate science is "too unclear" for government to take action. ("Republicans, Clean Energy and Climate Change," Clear Path Survey, 2015.)
70% of Democrats and 51% of Republicans would support a carbon tax to fund research and development of renewable energy.  Slightly less, 65% of Democrats and 43% of Republicans, would support a carbon tax whose revenue was returned via a "dividend" check. ("Public Views on a Carbon Tax Depend on the Proposed Use of Revenue," NSEE Survey, 2014.)
One in five respondents to a 2016 Guardian solicitation to readers named climate change as the "one issue that affects your life you wish the presidential candidates were discussing more." While this sample was explicitly non-random, climate change's #1 standing in the poll belies the prevailing notion that it doesn't resonate strongly with U.S. voters. (Climate change: the missing issue of the 2016 campaign, July 5, 2016.)
Alas, some pollsters have yet to figure out how to pose unbiased questions about carbon taxes. In a Sept 2016 poll promoted by the Associated Press, the NORC Center for Public Affairs Research and the U-Chicago Energy Policy Institute asked whether people were willing to pay more for electricity to combat change (Poll: Americans Favor Slightly Higher Bills to Fight Warming). Because the question didn't mention dividends or other ways in which the proceeds could benefit households, the results were tepid: "If the cost of fighting climate change is only an additional $1 a month, 57 percent of Americans said they would support that. But as that fee goes up, support for it plummets. At $10 a month, 39 percent were in favor and 61 percent opposed."
Older Surveys
Polling the American Public on Climate Change (April 2013), by the Environmental & Energy Study Institute offers comprehensive data on U.S. public opinion on climate change. It deftly graphs the ups-and-downs of public opinion since 2006 as registered in half-a-dozen leading surveys, and summarizes (with links) 20 different climate polls from 2012 and 2013 — all in just four pages.
Yale Project on Climate Change Communication (Public Support for Climate and Energy Policies, Nov. 2013) reported that:
83% of Americans say the U.S. should make an effort to reduce global warming, even if it has economic costs.
65% say that corporations and industry, 61% say that citizens themselves, and 52% say the U.S. Congress should be doing more to address global warming.
71% say global warming should be a "very high", "high", or "medium" priority for the president and Congress.
67% of Democrats and 52% of Republicans support eliminating all subsidies for the fossil-fuel industry.
National Survey of American Public Opinion on Climate Change (Brookings, April 2011) polled and compared the perceptions and preferences of 916 residents of the United States with those of 1214 Canadians. Brookings found that 56% of Americans supported national cap-and-trade while 46% supported higher fossil fuel taxes. In Canada, the figures were 63% for cap-and-trade and 58% for fossil fuel taxes, respectively.
Hart – U.S. Climate Task Force (December 2009) survey of 1,002 adults found that of those who supported action to address global warming, 58% supported a tax on carbon emissions that created incentives to reduce emissions and increase efficiency and provided tax refunds to individuals and households to offset the overall impact of the carbon tax. This compared to 27% who preferred a cap-and-trade option setting an overall limit on emissions, allowing companies to buy and sell permits.
The difference between the Hart results and those of the Brookings and Yale surveys may be explained in part by the more detailed explanations of the policies offered in the Hart poll. This suggests that clear articulation of the benefits of a carbon tax (and the options for revenue return) could result in majority support, at least among those willing to support action to mitigate global warming.