Did any group of incumbent politicians fare as badly in yesterday's midterms as the Republican members of the Climate Solutions Caucus? That seems unlikely, given the staggering dimensions of the electoral debacle inflicted on them (all figures apply only to the Congressional group's Republican members):
15 members lost their re-election bids (includes cliffhanger defeats of GOP incumbents Mia Love (UT-04) and Tom MacArthur (NJ-3)).
That's out of 35 members who were seeking re-election (another 7 stood down, 1 lost his GOP primary, and we exclude 2 members from U.S. territories).
The loss rate for caucus members — 43 percent — wildly exceeds the roughly 10-15 percent loss rate for Republican House incumbents overall.*
Caucus members accounted for around half of GOP incumbents' House losses. (That total, still hard to pin down, appears to be around thirty.)
With the 15 losses and 8 retirements, the 43-member Republican half of the caucus will dwindle in January to well under half, 20.
[* = Calculating the overall GOP incumbent loss rate isn't simple, since it requires separating Republicans who stood down from those who ran and lost on Nov 6. District-specific results posted by the Cook Political Report by David Wasserman and Ally Flinn may help. Ditto, Ballotpedia.]
One of the defeated Congressmembers was caucus co-founder and spearhead Carlos Curbelo (FL-26), who was edged out by Democrat Debbie Mucarsel-Powell, a political newcomer.
Meanwhile, "No Democratic members of the climate caucus lost their reelection bids," ThinkProgress reported, "although two Democratic members are retiring and one is running for a higher office."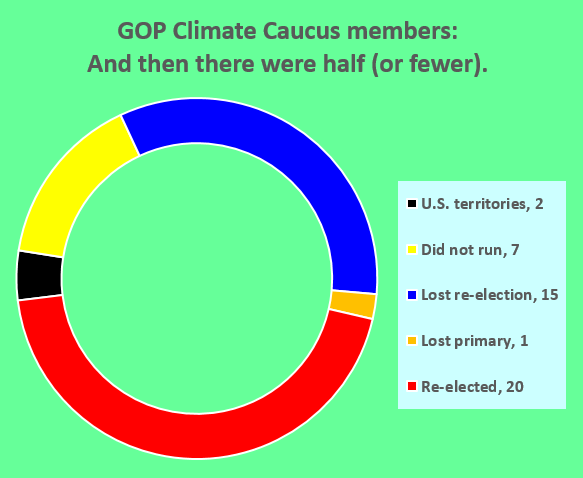 It is true that Republican caucus members on the whole were more vulnerable than other Republican incumbents, for two separate if complementary reasons. One, deep-red districts where climate concern is relatively low tend to be harder for Democrats to wrest from Republicans. Two, some Republicans whose electoral standing was shaky to begin with saw the caucus as a way to bolster their campaigns. For an effective price of zero, these members could signal their independence from Republican denialism and thus burnish their appeal to Democrats and so-called Independents.
These points aren't new to readers of this blog. We first conveyed our skepticism of caucus sincerity in June, with a post, Another Carbon-Dividend Group. Will It Matter?, and followed that a month later with Last Chance to Believe In a Republican-Assisted Carbon Tax? As the midterms approached and GOP incumbents lashed themselves ever tighter to the White House denialist-in-chief, we let loose with the more cynical, "Climate Caucus" greenwashing in full force as midterms approach, in September.
In between, we gave caucus co-founder Curbelo his props with Unicorn or Harbinger? A Republican Carbon Tax Is Readied for Debut. We concluded by remarking that with Curbelo's introduction in July of a carbon tax bill, a GOP first:
A "long national nightmare" of Republican silence and inaction on climate may be starting to end. Whether other G.O.P. lawmakers will stand with Curbelo remains to be seen. He is at least blazing a path, and for that he deserves our thanks.
Alas, Curbelo's path was never more than a faint trail. The current Republican Party — which a year-and-a-half ago we labeled "a racket to restore patriarchy, extractionism and white supremacy" — wasn't about to forsake Trump and the Koch Brothers and coal barons for a "unicorn" Republican Congressmember.
Whither the Climate Solutions Caucus, leaderless and downsized by half? (The disappearance of 22 caucus R's means that 22 D's will have to leave as well, to conform to its "Noah's Ark" makeup whereby each Democrat requires a Republican counterpart, lest the caucus's vaunted "bipartisan" brand be diluted.)
We expect the caucus will disappear. Not just because its membership is being cut in half but because its uselessness has been fully laid bare. In today's tribal politics, national-level Republicans can't evince climate concern except as a token gesture, if that. They certainly can't act on it by, say, renouncing Trump's renunciation of the Paris climate agreement, or calling for a national carbon tax or fee. Heresy of that sort guarantees being cast out of the party's belly and into the political wilderness.

Shed a tear, then, for Carlos Curbelo, but only briefly. The Democratic takeover of the House is worth an eternity of Republican caucus members' feints, signalings or even token bills. As CNN's John Harwood tweeted today, the House vote "was an all-or-nothing binary — power or no power. [The] Dem[ocrat]s won power."
One result: There will be fact-finding congressional hearings, on issues from Russia to climate. If we push hard enough, these will include examination of carbon taxing. Climate activists everywhere — in the U.S. and around the world — will be heartened and emboldened to demand and win real climate action, not lip service.
May 2020 addendum: Click here for Citizens Climate Lobby's current list of Climate Solutions Caucus members. The same list but with photos is available on the Web site of CSC Democratic member Rep. Ted Deutch.