Earth's climate is changing, bringing disruption and pain. 2015 was the globe's hottest year on record, exceeding the previous record set the year before. Fifteen of the sixteen warmest years on record have all come in this century, as this NOAA graphic shows.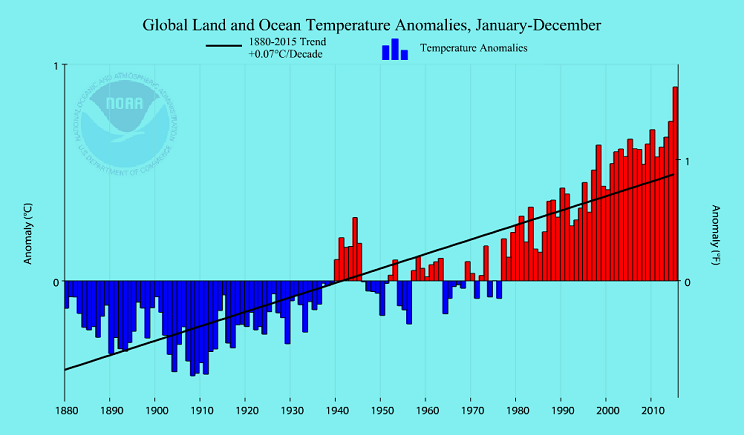 Even with the amazing strides in renewable-energy technologies, the transition from climate-wrecking fossil fuels to energy efficiency, sunlight and wind power is taking far too long. The #1 obstacle: the market prices of coal, oil and gas include almost none of the costs of carbon pollution.

A briskly rising U.S. carbon tax will transform energy investment, re-shape consumption, and sharply reduce the carbon emissions that are driving global warming.
A carbon tax is an "upstream" tax on the carbon contents of fossil fuels (coal, oil and natural gas) and biofuels.
A carbon tax is the most efficient means to instill crucial price signals that spur carbon-reducing investment. Download our spreadsheet (Excel file) to input your own tax levels and see how fast U.S. emissions will fall.
A carbon tax will raise fossil fuel prices — that's the point. The impact on households can be softened through "dividends" (revenue distributions) and/or reducing other taxes that discourage hiring and investing ("tax-shifting or swapping").
Carbon taxing is an antidote to rigged corporate energy pricing. Unlike cap-and-trade, carbon taxes don't create complex and easily-gamed "carbon markets" with allowances, trading and offsets.
Latest from the Blog: