President Biden's decision this week to greenlight ConocoPhillips' $6 billion Willow oil-and-gas drilling venture on Alaska's North Slope is being cast as a climate disaster first, an ecological disaster second.
That's backwards, not to mention incomplete. As we explain below, climate damage may be the least consequential aspect of Biden's decision. More dire is the ecological impact, which will be felt both in Alaska and on America's roads. But first and foremost, the president's action is a political debacle.
Biden's naked, unnecessary expansion of U.S. petroleum extraction into the country's largest tract of undisturbed public land cuts the legs out from his singular legislative accomplishment so far: the Inflation Reduction Act of 2022.
The IRA's most public-facing part is its intricate array of consumer subsidies and manufacturing incentives to hasten replacement of America's two hundred and eighty million petrol-burning cars and trucks with electric vehicles. The Carbon Tax Center came out swinging for this initiative, notwithstanding its tacit endorsement of EV giantism and cold-shoulder of small, urban-appropriate electrics such as bicycles, scooters and neighborhood electric vehicles.
With his Willow go-ahead, Biden has enshrouded the IRA's proud optics behind a dark curtain. Why direct tens of billions of taxpayer dollars to ramp up electric vehicles, possibly turbocharging U.S. deficits and inflation, if EV's aren't going to bring down the curtain on U.S. oil consumption?
Yes, the combustion-to-electricity transition can't happen overnight. But Willow makes the transition look depressingly distant. Indeed, by pumping up the supply of the fossil fuels the IRA professes to replace, Biden is casting shade on the underlying paradigm to electrify not only vehicles but "everything," including heating, cooking and industry.
By our calculations, the drop in oil consumption from the IRA's EV incentives will outweigh the oil supplied from Willow 6-fold. That finding highlights either how big a deal the IRA is or the relatively smallness of the oil venture. But the public is unlikely to see it that way. Rather than viewing Biden's legislation as transformative, they'll regard it as banal — helpful, but incomplete without a big assist from business-as-usual fossil fuels.
The "climate bomb" fallacy
CTC has long looked askance at climate campaigns targeting "fossil fuel infrastructure." We view oil and other fossil supply as the tail, with the carbon dog being the demand that creates both the impetus and the financing to pull fossil fuels from the ground, process them and deliver them to vehicles, engines and furnaces. Stop this well or that pipeline, we contend, and another will be developed to supply the fuels that customers demand.
Yes, this view is oversimplified, but not by much. It is true that each new supply increment pushes down prices somewhat, which then pumps up demand; or, equivalently, bottling up particular supply projects raises industry costs, hence prices, which depresses demand. But these processes are largely indirect and not nearly "one-for-one." The larger truth, we believe, is that demand finds a way to create supply.
Stop Willow, in other words, and the Permian Basin or the Persian Gulf or emerging oil frontiers like Uganda will serve up replacement supply.
In our telling, then, the only way to stop carbon combustion and climate chaos is to destroy demand. That points straight to carbon taxing, since it directly depresses consumer demand for energy, period, while also engendering conversion of energy supply to low- or zero-carbon sources, particularly in the more fungible electricity sector. Carbon taxes also "play well" with other policy instruments, reinforcing efficiency and regulatory standards.
Accordingly, the true "carbon bomb" isn't Biden's Willow signoff nearly as much as America's 280 million combustion vehicles along with jetliners, helicopters, jet skis and so forth and — to go deeper — the development patterns and acculturation that valorize them. For its part, Willow won't actually "bomb" Earth's climate since without it, the same amount of extraction will be done elsewhere (if a tad less fuel-intensively in non-Arctic, non-wild environs).
Alaska's wild ecosystems and heritage, including Indigenous livelihoods, will arguably be bigger losers than climate, then. Another loser will be our nation's streets and roads and those who use them, since each opening of the petroleum spigot enables and normalizes the ongoing shift to ultra-large vehicles — both combustion and electric. As urban researcher-scholar David Zipper has shown, the supersizing of the U.S. vehicle fleet is the #1 reason that U.S. road deaths, especially but not exclusively of people riding bicycles and walking, have shot up in recent years even as virtually all other developed nations enjoy steady declines in per-capita traffic fatalities.
IRA vs. Willow: No Contest
The depressing irony about Biden's approval of the Willow project is that the oil supply it will unlock, an estimated 180,000 barrels a day of crude, according to AP, isn't particularly large, in oil terms. Notwithstanding the "massive" tag applied in much of the media, ConocoPhillips' projected output amounts to only 1 percent of 2021 U.S. consumption of 19.8 million barrels of petroleum products per day.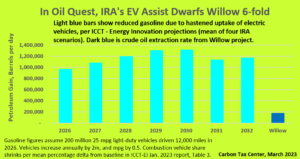 What's more, Willow's increment to U.S. supplies will only be one-sixth as much as the need for petroleum that Biden's Inflation Reduction Act will obviate by accelerating the uptake of electric passenger vehicles vis-a-vis the baseline pace, i.e., more gradually rising EV sales and use without the incentives in the IRA.
This finding is shown graphically at right. To derive it, we relied on projections in a January, 2023 white paper, Analyzing the Impact of the Inflation Reduction Act on Electric Vehicle Uptake in the United States, prepared jointly by two respected think tanks, International Council on Clean Transportation and Energy Innovation.
The calculation was straightforward. Table 3 of the report shows the ICCT/EI projections of future U.S. electric vehicle shares — not of sales but of registered vehicles in use — under baseline assumptions (no IRA) and four scenarios reflecting different extents of consumer uptake of EV's. We used the "deltas" (differences) from the base case during the seven years of greatest policy impact, 2026-2032 — they average 19 percent — to compute the gasoline that would be burned nationwide if there were no IRA and the IRA-boosted electric vehicle-miles were instead driven in combustion vehicles.
We assumed 200 million passenger cars averaging 25 mpg and each traveling 12,000 miles per year in 2026, with the number of vehicles rising by 2 million a year and fuel economy inching upward by 0.5 mpg per year, but with no change in per-vehicle miles driven. The amounts of avoided gasoline are easily calculated.
Several simplifying assumptions were involved:
We assumed no offsetting petroleum consumed in generating electricity, due to oil's minuscule share (less than one percent) of national electricity generation.
Though ICCT/EI's deltas don't apply to states that adhere to California's more-aggressive zero-emission vehicle rules, we extrapolated them to the entire country.
We ignored the IRA's accelerating effect on electric truck sales and use — almost certainly understating the legislation's petroleum savings more than our overstatement in bullet #2.
We implicitly treated crude oil supply with gasoline demand, a minor simplification that we suspect doesn't tilt our comparison much one way or the other.
Tongue-tied on the campaign trail?
We don't mean to be cruel, but until this week we pictured President Biden campaigning for re-election and touting the Inflation Reduction Act's manifold achievements: Without a single Republican vote, we passed a law freeing us from manipulated, volatile oil prices and corporate despoiling of our climate and our Earth. And the law is creating millions of good-paying jobs for Americans, especially in areas ravaged and ruined by fossil-fuel development.
That's still true. But with Willow, the purity of the message is gone, taking much of the power with it.