You could say it was a good week for our planet and our country. Rush is gone and Cruz is hobbling.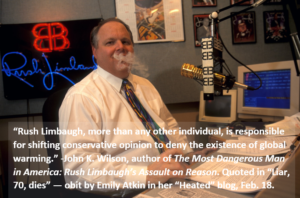 Right-wing shock-jock Rush Limbaugh, who helped make climate denial (not to mention extreme misogyny) an article of faith among a large swath of American voters, died on Wednesday, from lung cancer. He was 70.
The next day, U.S. Senator, Trump enabler and climate troll Ted Cruz became the most ridiculed man in America when he was discovered to have fled his Houston home in the midst of a record cold spell in which Texas's electric grid failed and the state was plunged into freezing darkness.
The schadenfreude was irresistible. Just last summer Cruz was on Twitter mocking California for running short on power during the state's extreme heat. "California is now unable to perform even basic functions of civilization," he gloated on Aug. 19. Now, six months removed, conditions in his own state were so exigent that Cruz bolted for Cancun, "paying his way out of hardship" rather than joining millions of Texans in enduring frigid homes, treacherous roads, and lack of food and water; or, perish forbid, helping bend the machinery of government to aid those most in need.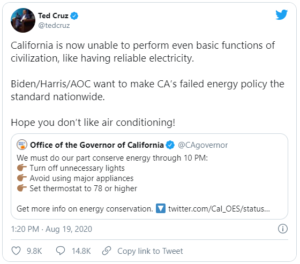 Cruz's self-inflicted wound — dubbed "a truly rookie move" by the New York Times — was especially savored by those who advocate for renewable energy and climate protection, as it helped expose the hollowness of his fellow Texan fossil fuel promoters; people like Gov. Greg Abbott, who rushed to blame the electric grid collapse on a combination of record cold (true) and frozen "windmills" and solar panels (false).
"This shows how the Green New Deal would be a deadly deal for the United States of America," Abbott confabulated to Fox "News" host Sean Hannity on Tuesday. Yet on Thursday the Washington Post reported that "the governor's arguments were contradicted by his own energy department, which outlined how most of Texas's energy losses came from failures to winterize the power-generating systems, including fossil fuel pipelines."
By Friday, when this was posted, a consensus diagnosis was emerging that centered not only on frozen natural gas wells that couldn't deliver fuel to the state's many gas-fueled power plants, but also on the laissez-faire ideology that ensured that state officials and utilities would ignore the 2011 recommendations of a federal task force to winterize wells and generators and invest in reserve capacity. Texas grid fails to weatherize, repeats mistake feds cited 10 years ago, read the headline of the Houston Chronicle's exposê.
And don't ignore the "common-mode failure" aspect of the Texas grid collapse, in which the same frigid conditions that caused power demands to spike also degraded the operability of the equipment needed to meet those demands.
But let's leave Texas behind — not physically, like Sen. Cruz, just attention-wise — and turn to the state he maligned last summer as "unable to perform even basic functions of civilization."
Unremarked then and now is how much California, through enlightened energy policy, did and still does perform a genuinely "basic function": climate protection. From 1975 to 2016, California reduced the amount of fossil fuel inputs to each unit of economic activity 18% faster than the rest of the U.S.
That stat comes from the 2019 Carbon Tax Center report that I wrote for NRDC, "California Stars: Lighting the Way to a Clean Energy Future." (Full report here; CTC blog post here.). The report concluded that if the other 49 states had matched California's rate of progress at squeezing fossil fuels out of its economy, total U.S. emissions of CO2 would be lower today by nearly 25%, or 1,200 million metric tons of CO2 — the equivalent of all carbon pollution from U.S. passenger vehicles.
Unfortunately, few if any states did. Certainly not Texas. No, we haven't run the rest-of-U.S. figures for Texas alone, but it's a good bet that this aggressively libertarian petro-state lagged most others in reducing its use of coal, oil and gas relative to economic activity.
Where California has really excelled in cutting fossil fuels vis-à-vis GDP is in electricity. (See chart.) How this came about is a rich story, some of which we told in "California Stars."
Key is that California inaugurated not just efficiency standards for appliances and buildings but also a process for continually updating those standards to align with, and further incubate, advances by which cooling, heat and light may be furnished with progressively smaller energy inputs.
These policies, along with innovations that enabled electric and gas utilities to bankroll customer "end-use" efficiency investments, later spread to other states, greatly amplifying their impacts. But they took root first and most deeply in California. And consider the implications of "most deeply." Had aspects of California-style building codes such as insulating pipes and fortifying building envelopes been copied in Texas, not a few houses and hospitals could have been better equipped this week to keep their occupants safe and their plumbing intact.
The story we told in "California Stars" deserves to be known more widely. In the 21 months since NRDC published it, only the redoubtable David Roberts (follow him on Twitter as @drvolts) has covered it — which he did in a tour de force post, How California became far more energy-efficient than the rest of the country. Unlike wind turbines and solar panels, though, energy efficiency doesn't get much respect. It certainly doesn't get ribbon-cuttings, as the saying goes.
Nevertheless, if Texas and other states had matched California's record in cutting fossil fuel use relative to GDP, perhaps this week's polar vortex might have been a bit weaker due to lower U.S. CO2 emissions. Millions of Texans might have had more power and less misery.
Moral: enlightened governance counts.