Guest Post by James Handley
Will you sell your vote for $25? Presidential candidates John McCain and Hillary Clinton are betting you will. They're campaigning for a "holiday" on federal gasoline taxes for the summer months.
Of the three presidential contenders, only Barack Obama has demurred. Obama said last week:
[T]he federal gas tax is about 5 percent of your gas bill. If it lasts for three months, you're going to save about $25 or $30, or a half a tank of gas.
Obama insists that the only permanent solution to rising gasoline and diesel fuel prices is to reduce consumption and increase use of alternative fuels.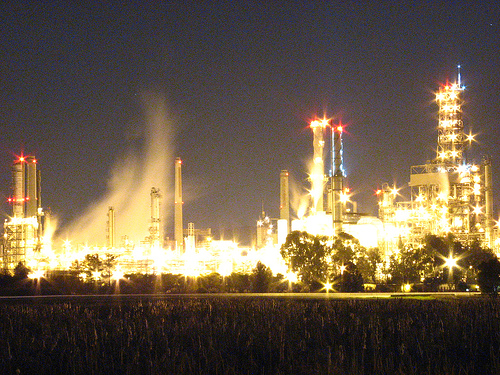 Haven't we been down this road before? Yes, a dozen years ago. The New York Times excoriated the same "gas tax holiday" in May 1996:
Fill 'er up, America, this is the Memorial Day holiday and the start of the "summer driving season." We are a road-running, gas-guzzling people and Bob Dole, Newt Gingrich and Bill Clinton all say our Federal tax should be lowered 4.3 cents a gallon. But the tax relief, if it ever comes, will be trivial — and will have a negative impact on public policy. It is, in short, something of a political fraud.

Low prices and higher demand by consumers, many of them all too willing to pay any price to drive at and over higher state speed limits, will only increase American dependency on foreign oil. If people are worried about energy, not to mention the environment and the budget deficit, suspending the 1993 gasoline tax increase (many politicians would make it permanent next year) is exactly the wrong way to go.
Now the specter of catastrophic global warming is snapping into sharp focus like a jack-knifed tractor trailer blocking all lanes as we careen along at 75 mph. Sirens are wailing and lights are flashing thanks in large part to the Nobel-winning work of the Intergovernmental Panel on Climate Change and Dr. James Hansen's NASA-Goddard Climate team, un-muzzled despite Bush Administration threats.
And yet, U.S. energy policy is still "pedal to the metal" on the global warming accelerator — with McCain and Clinton urging us to "step on it" with a gas tax break. The exact opposite of what economists say is the essential step: pricing carbon emissions.
Yale economics professor William Nordhaus offers this litmus test:
[W]hether someone is serious about tackling… global warming can readily be gauged by… what they say about the carbon price. Suppose you hear a public figure who speaks eloquently of the perils of global warming… propose regulating the fuel efficiency of cars, or requiring high efficiency light bulbs or subsidizing ethanol, or providing research for solar power — but nowhere mentions the need to raise the price of carbon.

You should conclude that the proposal is not really serious and does not recognize the central economic message about how to slow climate change. To a first approximation, raising the price of carbon is a necessary and sufficient step for tackling global warming. The rest is largely fluff.
By declining to dangle the $25 bribe before the electorate, Sen. Obama has avoided the fluff. But he hasn't yet taken the pro-active step of using prices to put the U.S. economy on a low-carbon diet.
Nordhaus provides the intellectual model, explaining that taxes on "bads" such as pollution and waste make our economy more productive and efficient and should therefore be viewed as the opposite of taxes on "goods" like products, income and employment.
Seven-Up soft drink was advertised in the '70s as the "Un-Cola." Perhaps it's time to market a carbon tax as the "un-tax."
Photo: Flickr / pbo31