We reported last week that British Columbia will implement a carbon tax of $10 per metric ton of carbon on July 1, rising in $5/tonne annual increments to reach $30 in 2012.
In both scope and size, the tax leapfrogs North America's other, modest carbon taxes, in Quebec and the City of Boulder, Colorado. How did the tax come about? CTC supporter Jurgen Hissen filed this account from Vancouver.
The idea for a carbon tax came from the top ranks of the BC government. It wasn't foisted upon them. I think they were actively seeking ways to justify it to the citizenry.
BC Liberals — who aren't connected to Canada's national Liberal Party — have always been pro small-government. When they came into office in 2001, they cut taxes and government spending extensively. BC Liberals have also historically emphasized personal responsibility and environmental issues, and a carbon tax (a consumption tax) is pretty consistent with that.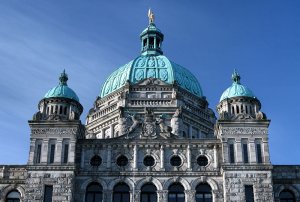 After meeting last year with California Governor Arnold Schwarzenegger, BC Premier Gordon Campbell resolved to set carbon reduction targets for BC. Suggestions of a carbon tax began circulating, but the real push likely came from Carole Taylor, Campbell's finance minister.
In late 2007, Taylor assembled a committee, the Select Standing Committee on Finance and Government Services, to collect public input on the budget. The committee issued a questionnaire to every household in the province; how to tackle climate change covered three of the six questions, and two of them were what pollsters would call "leading":
The Province currently provides tax incentives to encourage the purchase of hybrid vehicles [… etc.]. What tax changes would you make to encourage environmentally responsible choices? and
What tax changes would you make to discourage British Columbians from activities that contribute to greenhouse gas emissions?
Clearly, the government was looking to rationalize carbon taxes. The response was favorable, and crucial, not to mention broad-based. A carbon tax was backed by business leaders, a group of 60 economists from BC universities, and key religious leaders.
Taylor, the finance minister, reported getting 700 letters in support of a carbon tax (about 10 of those were mine, I think), and only about 160 opposed — a fact she cited on the day she announced the tax.
CTC invites readers from British Columbia or elsewhere to write with further details/insights on the development of BC's carbon tax as well as potential implications for other provinces and the U.S.
Photo: Wikipedia