British Columbia's Finance Minister Carole Taylor introduced a revenue-neutral carbon tax today that will serve as an excellent model for the United States. According to a story in the Canadian Press, the carbon tax will be effective July 1, will be phased in over five years and will start at a rate of $10 per tonne of carbon emissions. It will rise $5 a year to $30 per ton by 2012. The carbon tax revenues will be returned to taxpayers through personal income and business income tax cuts, according to Taylor.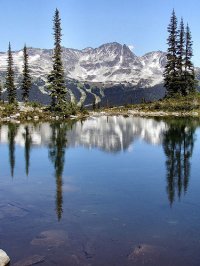 According to the same story, climate specialist Ian Bruce of the David Suzuki Foundation stated that "The Government has used the most powerful tool, a carbon tax, to reduce greenhouse gas emissions." As Bruce pointed out, "Green choices will become cheaper."
B.C. can now be proud of its natural beauty and its wise public policy designed to reduce the impact of climate change. Note that the proposed new carbon tax is very similar to the revenue-neutral, phased-in carbon tax proposed by the Carbon Tax Center.
For more on the new B.C. carbon tax, see stories at right under "Latest Headlines."
Photo: bfraz / flickr