New polls are showing increasing support for carbon taxes as concern about climate change grows. We're pleased with these results, but we're frustrated that as yet no polls have included questions that would indicate whether support for revenue-neutral carbon taxes exceeds that for carbon taxes for which the revenue uses are either unspecified or earmarked. While we strongly suspect the answer would be Yes, it would be helpful to have our suspicions confirmed by actual polling data.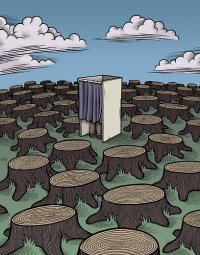 The most recent poll, a Field Poll published on Nov. 9, reports that a majority of Californians are in favor of a carbon tax. Some 72% support a carbon tax on business, although this declines to 53% if the tax were to result in Californians' paying higher prices for goods and services. Support for the tax grows to 65% if the tax revenues are spent solely on reducing greenhouse gas emissions.
Approximately 65% of those polled also favor the idea of a cap-and-trade system. However, those stating a preference for cap-and-trade were not asked the follow-up question about higher prices that was asked of carbon tax supporters, even though increases in prices due to cap-and-trade would be similar to those from a carbon tax.
Similar results were obtained in a recent BBC poll of 22,000 people in 21 countries. In 14 of the countries, "a majority (61% on average overall) say it will be necessary to increase energy costs to encourage conservation and reduce carbon emissions." The poll found that 74% of Americans support paying a higher tax on coal and oil if the revenues are used to promote efficiency or to develop new fuels; but, unsurprisingly, Americans are divided if the revenues are not used for those purposes, with only 46% supporting such a tax. The poll did not ask about support for a revenue-neutral tax that would encourage conservation, reduce carbon emissions AND return the money to all Americans. Most Would Pay Higher Energy Bills to Address Climate Change Says Global Poll, World Public Opinion.Org, Nov. 5.
Image: Mario Zucca Illustration / Flickr.