Last week's New Yorker magazine carried a profile of energy-efficiency apostle (and, as it happens, my college classmate and longtime acquaintance) Amory Lovins by the magazine's global-warming reporter Elizabeth Kolbert. "Mr. Green — Environmentalism's most optimistic guru" is a fair, digestible (at just 8 pages) portrait of the Rocky Mountain Institute CEO who reconceptualized the energy debate in the 1970s and is still tirelessly pitching his message of synergistic, human-scale energy solutions to the world's political, financial and industrial leaders.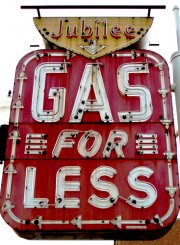 Back in the day, I was a member of Amory's worldwide web of energy analysts who fed him our cutting-edge research (mine concerned cost escalation in the building and operating of U.S. nuclear reactors) and benefited in turn from his incisive editing and brilliant framing of our work. Along the way, however, I grew skeptical of his faith that human ingenuity and care would catalyze the dreamed-of wholesale shift to energy efficiency and renewables. Advances in efficiency, and there were many, seemed scattershot and outweighed by humankind's capacity to invent ever more uses of energy and our boundless appetites for using them.
The key difference in our outlook turned out to concern price. Amory, the physicist and optimist, considers high energy prices helpful but not necessary, whereas I, an economist and, dare I say, a realist, regard them as necessary though not sufficient. Thus, the Carbon Tax Center.
Toward the back of Kolbert's article is this useful passage:
… the example Lovins likes to point to — the drop in oil use in the early nineteen-eighties — is, at best, equivocal. As Lovins notes in his book, what made people "pay attention" to oil consumption was the 1973 Arab oil embargo and the second, even more severe 1979 oil shock. Part of the drop was due to structural shifts in the economy away from oil-intensive activities. Part of it was fuel substitution by both individual consumers and industry, as homeowners and factories switched from oil to, for example, natural gas. The largest part of it was increased fuel efficiency in both automobiles and buildings, led by the creation of federal auto efficiency standards in 1975. And, finally, part of it was a change in consumer behavior as Americans bought smaller cars and turned down their thermostats. Thus what Lovins offers as a demonstration that federal regulation and new taxes are unnecessary could just as plausibly be seen as evidence of exactly the opposite.
My point — and CTC's point — exactly.
And Thomas Friedman's point too, perhaps. In his first New York Times column after Kolbert's article appeared, Friedman wrote of the need to require "power utilities, factories and car owners … to pay the real and full cost to society of the carbon they put into the atmosphere." In case the point wasn't clear, Friedman added: "… prices matter. They drive more and cleaner energy choices."
Although Friedman didn't mention Lovins by name — he's a big admirer of Amory, as am I — I'll bet he wrote with the New Yorker profile in mind.
Photo: karbon69 (Flickr)