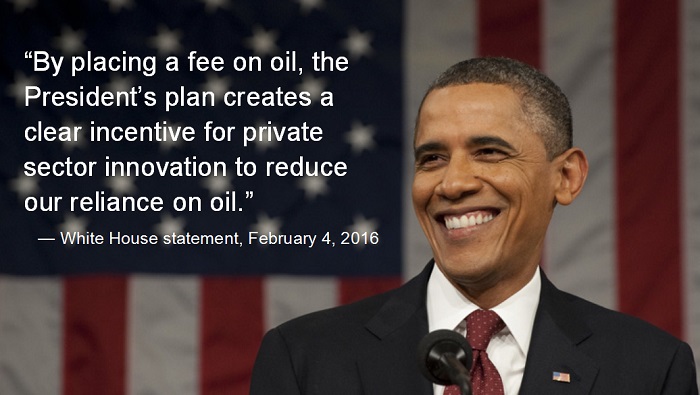 For Immediate Release:
February 5, 2016
Carbon Tax Center Applauds Obama Oil Tax Proposal
In response to President Obama's proposal of a modest tax on every barrel of oil, Charles Komanoff, Director of the Carbon Tax Center, issued the following statement:
"President Obama kicked off a crucial conversation about the pricing of fossil fuels yesterday when he proposed a $10 per barrel oil tax. The president's logic is compelling: today's low oil prices provide a low-pain opportunity to begin building in some of the much higher real cost of burning petroleum.
"We and many others have proposed a modest oil tax as a good start toward an economy-wide carbon tax. Ten dollars per barrel (which translates to about 25 cents per gallon of gasoline) won't cover the vast climate, health and traffic congestion costs of oil consumption, but it is a bold step in the direction of climate-friendly transportation and sound energy policy.
"While Obama's proposed oil tax faces formidable obstacles in the Republican-controlled Congress, the public strongly supports public transportation infrastructure spending. Congress has failed to raise the 18 cents per gallon gasoline tax since 1993 (thus shifting the burden away from the heaviest users of our highways to taxpayers), and revenue now falls far short of its dedicated purpose of funding highways. We desperately need to update and transform our transportation infrastructure to meet the nation's needs in a low-carbon future.
"We strongly urge members of Congress to approve President Obama's modest and sensible request. A $10 per barrel oil tax is a positive step to putting the country on a path to a sustainable and prosperous future."
###
The Carbon Tax Center launched in January 2007 to give voice to Americans who believe that taxing emissions of carbon dioxide and other greenhouse gases is imperative to combat global warming. CTC is a clearinghouse for research, analysis and advocacy to establish a carbon tax as the centerpiece of U.S. policy to combat catastrophic climate change. It has been the leading NGO advocating for carbon taxing as the key to unlocking low- and non-carbon investment and innovation to drive the global energy system away from fossil fuels to renewable wind, sunlight and efficiency.