New York Times climate reporter Coral Davenport writes today that Pope Francis's warning against cap-and-trade as a tool to address the climate crisis creates a "paradox":
[W]here Francis' environmental and economic agendas meet, he leaves something of a paradox. . . While urging swift action to curb the burning of fossil fuels that have powered economies since the Industrial Revolution, he also condemns the trading of carbon-emission credits, saying it merely creates new forms of financial speculation and does not bring about "radical change." But carbon trading is the policy most widely adopted by governments to combat climate change, and it has been endorsed by leading economists as a way to cut carbon pollution while sustaining economic growth.
With due respect to Davenport as well as Robert Stavins, the Harvard climate economist whose concerns figure prominently in her story, there is no paradox. Francis's encyclical, On Care For Our Common Home, doesn't muddy the climate change debate because a carbon tax, not cap-and-trade, is economists' preferred policy tool for curbing carbon pollution.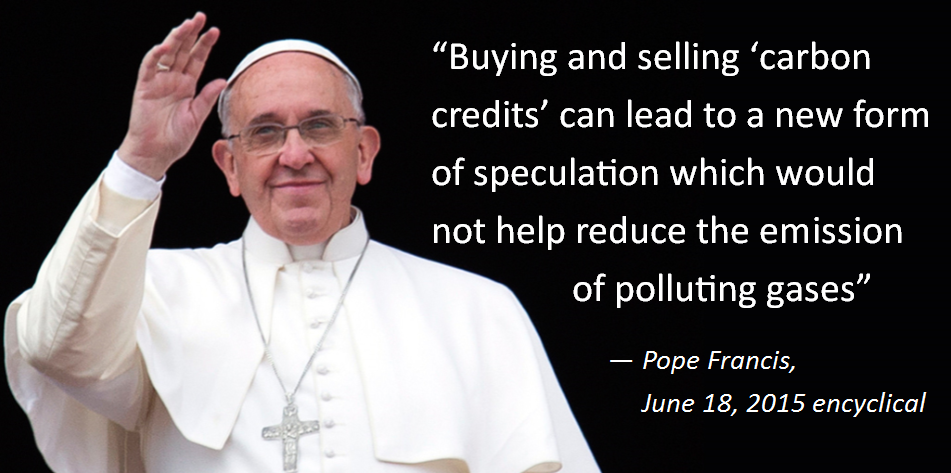 Francis criticizes emissions trading on three grounds: First, trading carbon allowances allows traders to profit from the climate crisis — indeed, it's designed to do that. Second, "offsets" that are virtually hard-wired into cap-and-trade shift the burden of pollution to developing countries. Third, cap-and-trade with offsets absolves the wealthy of responsibility to rein in their carbon-intensive lifestyles. In Francis's own words:
The strategy of buying and selling carbon credits can lead to a new form of speculation which would not help reduce the emission of polluting gases worldwide. This system seems to provide a quick and easy solution under the guise of a certain commitment to the environment, but in no way does it allow for the radical change which present circumstances require. Rather, it may simply become a ploy which permits maintaining the excessive consumption of some countries and sectors. [171]
What, then, does Francis demand? That societies internalize the costs of pollution, especially climate pollution:
[O]nly when the economic and social costs of using up shared environmental resources are recognized with transparency and fully borne by those who incur them, not by other peoples or future generations, can those actions be considered ethical. [195]
A reference in that passage attributes Francis's calls for polluters to pay "the economic and social costs" they incur to his predecessor, Pope Benedict. (Both pontiffs presumably intended "impose" rather than "incur," i.e., for costs to be borne by those who impose them, but no matter.) Those resources surely include clean air. The new encyclical thus aligns the Catholic Church with the century-old "Pigovian" tradition of economists urging policies to internalize costs.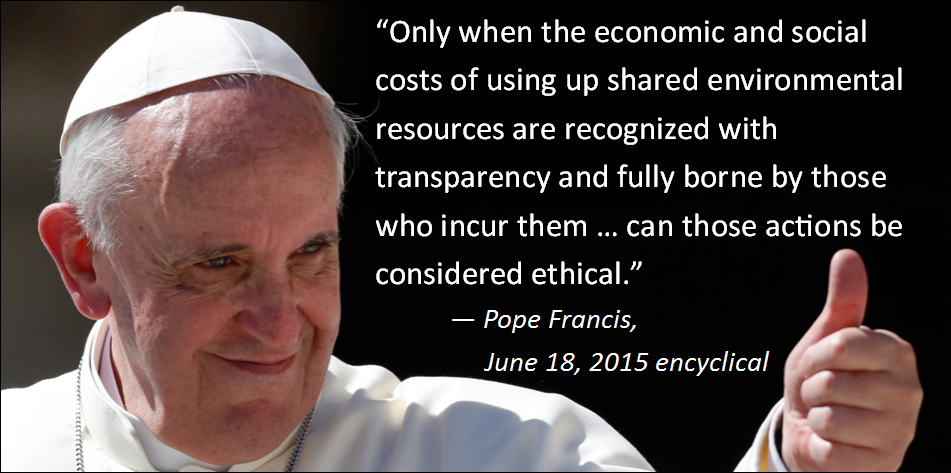 Nevertheless, in an email quoted by Davenport, Stavins brands Francis as "out of step with … informed policy analysts around the world," in effect labeling the Pope as economically-illiterate and naïve:
"I respect what the pope says about the need for action, but this is out of step with the thinking and the work of informed policy analysts around the world, who recognize that we can do more, faster, and better with the use of market-based policy instruments — carbon taxes and/or cap-and-trade systems," Robert N. Stavins, the director of the environmental economics program at Harvard, said in an email.
That Stavins is the lone environmental economist quoted in Davenport's piece did not deter her from claiming that "environmental economists criticized the encyclical's condemnation of carbon trading, seeing it as part of a radical critique of market economies." Hardly. The Pope, like legions of environmental activists and economists worldwide, has seen the shams of emissions trading and carbon "speculation" for what they are. [Read more…]