Every week seems to bring another disaster rooted in climate change. Extreme and historic floods, droughts, wildfires, icemelts. Setting off food shortages, civil unrest, mass migrations.
And no, it's not our wired world putting more cataclysms on our screens. The frequencies are rising. The last colder-than-average month in NASA's global-temperature database was July 1985. June 2016 was the 14th straight month to break a century-or-older temperature record.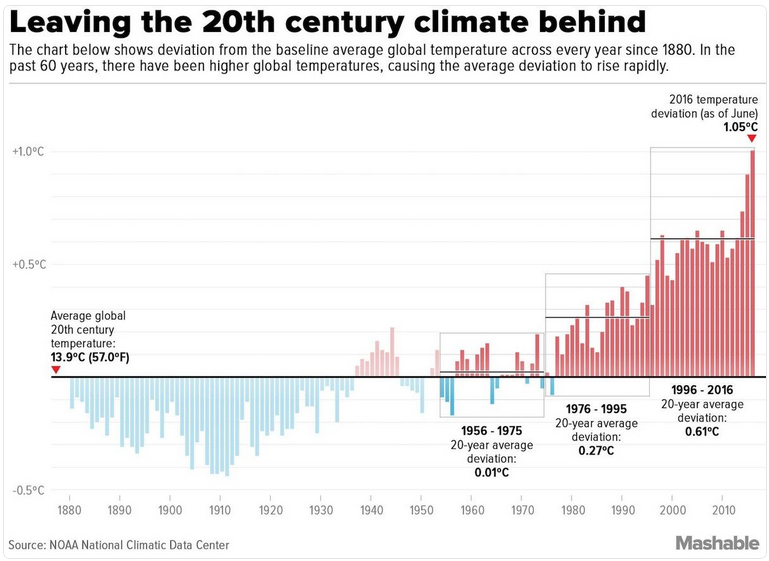 The cause is global warming from greenhouse gases. The habitually cautious New York Times reported last year that the planetary warming already caused by human emissions has quadrupled the frequency of some heat extremes since the Industrial Revolution. Scientists writing in the peer-reviewed journal Nature warned that continued unchecked emissions could eventually trigger a 62-fold increase in such heat blasts — and consequent storms, deluges, loss of habitat, and human suffering.
It's true that some calamities are now "baked in" to our climate future due to carbon dioxide's persistence in the atmosphere. But it's also true that slowing and stopping future emissions can reduce the rates and magnitudes of these catastrophes. And the fastest and fairest way to drive down emissions is through national-level carbon taxes in the U.S. and around the world.
We should have started taxing carbon pollution decades ago, but acting now will help limit future losses. Moreover, a world with less and eventually zero fossil fuels will be healthier and more just. No more oilgarchs. No more coal particulates. No more fracking. Fewer extremes not just of weather but of wealth. More jobs, and not in mopping up climate disasters but building sustainable infrastructure.
What's the proper response to the latest climate disaster? Compassion. Grief. And political action to support actions, organizations and candidates who advocate taxing carbon, and push those that don't to come on board. Earth needs you to support carbon taxes.