While watching Congress make climate legislation "sausage," it's easy to forget that the process was jolted to life three years ago when a scrappy group of environmentalists and states won a suit against EPA.  The Supreme Court ruled that greenhouse gases are indeed "air pollutants" within the meaning of the Clean Air Act, putting EPA's gears into motion.  The first result of the case was EPA's new fuel efficiency standards for cars and light trucks, issued last week.  The Massachusetts v. EPA decision also helped nudge legislators to do something "better" than EPA regulation.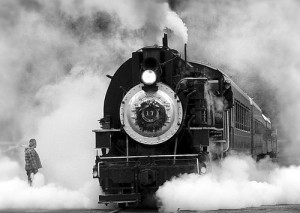 Last spring, the House passed the Waxman-Markey (W-M) bill which: discarded candidate Obama's
promise of full permit auctioning and instead gave away 85% of the allowances (lion's share to utilities); larded polluters with two billion tons of offsets, enough to overwhelm any near term constraint on emissions that (the roughly six billion ton/yr) "cap" might have imposed, and ignored the Ways & Means Committee's hearings and proposals for direct CO2 pricing.  W-M appeased big agribusiness by throwing in special rules for biofuels so the industry wouldn't have to actually reduce net emissions and cut out EPA oversight over agricultural offsets.  Finally, over the objections of just a few green and public interest groups, W-M jettisoned EPA's Clean Air Act authority over greenhouse gases.  With muscular arm twisting, W-M passed the House by the slimmest of margins.
Senators Kerry and Boxer proposed a similar cap/trade/offset bill (which would have left EPA authority intact).  Even with Copenhagen focusing the world's attention on the climate and especially on the laggard United States, Kerry-Boxer gained no footing in the Senate for half a year.
Now, Senators Kerry, Graham and Lieberman (KGL) propose to toss aside the much ballyhooed "economy-wide cap-and-trade" for a three sector approach: a "cap" on utilities, an equivalent low (and fluctuating) tax on motor fuels, leaving industry's greenhouse gas emissions for "later."  Wonder why the oil industry's saying nice things about that?  They missed out on the free allowances that the House bill gave to utilities.  KGL are offering the oil boys the same low CO2 price that the coal boys got.  And industry would get a pass.
Meanwhile, Sen's Murkowski and Rockefeller are taking aim at EPA authority over greenhouse gases.   Reportedly, KGL are willing to hand them a bullet.
Is EPA authority worth fighting for?
The 40-year-old Clean Air Act offers three potential pathways to CO2 emissions reductions.  First, EPA can (and did) require automobile makers to increase the average efficiency of vehicles.  Second, EPA can specify the "best available control technology" to be used at stationary sources (power plants, industry).  Third, EPA may be able to set a national standard for CO2 levels (accounting for international emissions) and put the states in charge of regulatory systems to achieve it, as the Center for Biological Diversity and 350.org have petitioned EPA to do.
Cap/trade/offset proponents routinely dismiss regulations as vastly more expensive and inefficient than their market-based system, despite cap/trade's enormous transaction and information costs, allowance give-aways and a cap deflated by unverifiable offsets.  Whatever it's worth as climate policy, EPA's plodding progress on GHG regulations and the threat of more, has "focused the minds" of many Senators on climate.
We agree with the cap/trade/offset crowd that a carbon price would be far more effective (larger reductions) and efficient (lower cost) than EPA regulations.  (Unlike the cap/trade/offset crowd, we don't believe that it's a good idea to set the price via a new, volatile market with special "offset" trap doors.)  But that doesn't mean those who support a clear, transparent carbon price should support moves to gut EPA's authority.
As we've pointed out, (and the Germans observed) under a cap, regulations tend to reduce emissions in one place while making room for more somewhere else.  Similarly, by themselves, efficiency rules, (e.g., CAFÉ standards for automobiles, appliance efficiency standards, and building codes), tend to encourage us to drive further and buy bigger appliances or homes, taking up much of the slack in our energy "budget" gained through efficiency.  So we can see why a cap and regulations don't "play nicely" together.  But the combination of some kinds of regulations with a steadily-rising carbon pollution price can be synergistic.  For example: CAFÉ standards say: make more efficient cars.  A rising carbon tax says: buy them and drive them less.
So is there any good reason to bargain away EPA's Clean Air Act authority?  The Kerry-Graham-Lieberman proposal is still under wraps (except if you're an industry insider), but what we've seen sure doesn't seem like a good trade-off.  When faced with what portends to be a terrible climate bill whose passage would compel us to "throw granny under the train," I'll be with those yelling: STOP!
photo:  Flickr — Gary-Neil Richardson