In his State of the Union address, last week, President Obama called for passage of "a comprehensive energy and climate bill with incentives that will finally make clean energy the profitable kind of energy in America." The President did not mention cap-and-trade.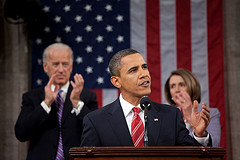 Several days ahead of Obama's speech, Progressive Democrats of America, endorsed the straightforward, ramped-up carbon tax proposal introduced last March by Rep. John Larson of Connecticut, who heads the House Democratic Caucus. PDA recognized that as cap-and-trade legislation falters in the Senate, a long-term, grassroots effort to enact a stronger, simpler direct CO2 pricing approach will be needed.
Larson's "America's Energy Security Trust Fund Act" (AESTFA) would impose a steadily-increasing fee on carbon-based fuels upstream at the first point of sale and apply the revenue to reduce workers' payroll taxes. Could there be a better time to encourage employment?
Larson's 21-page bill is easy to understand. There are no offsets to monitor, report and verify; no carbon market for Wall Street to game; and over its life more than 95% of the revenue would go right to where it's needed — into workers' and retirees' paychecks. Best of all, the carbon price would step up predictably by $10/T CO2 each year, with a bump-up in the rate to $15/ton if EPA monitoring indicates that the higher rate is needed to achieve the targeted emissions reductions. The Senate should substitute AESTFA, as endorsed by PDA, for the flawed and politically dead Kerry-Boxer cap-and-trade legislation.
Progressive Democrats of America was founded in 2004 when progressives, many with roots in the environmental, civil rights, labor, peace and social justice movements recognized the need for a strong progressive voice within the Democratic Party. PDA is urging supporters to contact senators and representatives to point out that AESTFA is the best answer to President Obama's call for climate legislation to make clean energy profitable.
Rep. Larson's bold proposal offers a win-win: it would put a clear, gradually-increasing price on CO2 pollution to reflect more of the real costs of dirty fossil fuels while simultaneously lifting taxation of workers that discourages employment and prolongs the recession.