How do you get inside Washington D.C.'s exclusive Cosmos Club? With an invitation to present on behalf of the Carbon Tax Center in a "roundtable" discussion, "Transatlantic Perspectives on Market Mechanisms for Curbing Carbon Emissions," hosted by the European Institute. Here's my report of the panel this past Wednesday.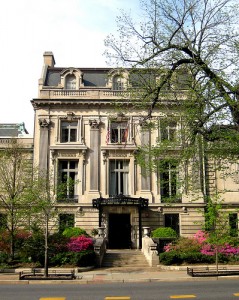 Peter Zapfel, Assistant Deputy Director General of Environment at the European Commission kicked off the session by conceding that the EU's Emissions Trading Scheme (ETS) had experienced serious difficulties, but he contended that they are being remedied. The EU and the UN are improving oversight of offsets, he said, and the ETS is moving toward full auctioning of allowances and away from free allocation that gave windfalls to emitters. Zapfel also asserted that the ETS has tightened up its initial over-allocation of allowances. The overriding imperative for the U.S., Zapfel stressed, is to price carbon.
Anne Lammila, from Finland's Mission to the U.S., said her country had exceeded its Kyoto reductions quotas but had found offset verification under the UN Clean Development Mechanism (CDM) "laborious" and "expertise-demanding." Lammila enthusiastically endorsed Finland's carbon tax which she said has reduced emissions by 5% below the previous trend and stimulated renewable energy investment and development. Energy taxes are now a major source of government revenue, she said, and are curbing growth in energy use and promoting efficiency while Finland's economy expands. Lammilla said nearly everyone in Finland is "convinced of the need to act now" on global warming. She also stressed that climate policy had created jobs in her country, including more jobs for women.
Sylvain Garnaud, North American president of LaFarge Cement, the world's largest cement manufacturer, acknowledged that cement manufacturing is a large CO2 emitter but not, in his estimation, vis-à-vis other building materials on a lifecycle basis. According to Garnaud, cement production generates 5% of CO2 emissions worldwide, the great bulk from China. Garnaud called cement manufacture a trade-exposed industry, with 10% of U.S. demand now met by imports despite 15% additional costs for shipping. On "cap vs. tax," Garnaud said that the important point is CO2 "price visibility and a level playing field." He hoped the U.S. would soon set a climate policy rather than "continuing discussions for another 30 years." Garnaud opined that the "poor market functioning" of the EU ETS is "not endemic to cap-and-trade." He suggested that a carbon tax could complement a cap, particularly to cover uncapped sources. Garnaud said LaFarge joined and is achieving the World Wildlife Federation's program to cut its 1990 emissions 20% by 2010.
Moderator Mark Hopkins (of the United Nations Foundation) asked why the U.S. has such a high level of skepticism about global warming. He noted that no U.S. president has ever devoted even a substantial part of a speech to climate. He also asked panelists about the problem of carbon market volatility which "doesn't necessarily give clear planning horizons" to businesses and investors.
Zapfel responded that "in the U.S., volatility seems to be a bad word," but he thinks the adjustable prices in EU's ETS have benefits. Falling prices during a recession provide a "countercyclical stimulus," he said, while also touting the possible advantage of a falling allowance price in the event of a technological breakthrough. Zapfel also claimed that ETS trading prices are becoming more stable.
Boyden Gray, White House counsel in the Bush père administration and a principal architect of the U.S. SO2 emissions trading system, suggested that there is little "systemic risk" to the U.S. economy from cap-and-trade. But he was concerned about the prospect that volatility would enrich traders, pointing to the recent op-ed by Sen. Gillibrand touting carbon trading as a salvation for Wall St. He criticized even the limited inclusion of auctioning in the Waxman-Markey and Kerry-Boxer cap-and-trade bills, claiming that distributing 100% of permits to emitters would do away with volatility.
The EU's Zapfel pointed out that the windfalls reaped by utilities in the EU ETS had "seriously damaged their reputations. " He advised against free allocation of allowances, noting that the EU is moving as quickly as possible toward full auctioning.
Gray disputed the notion that utilities would reap windfalls from free allowances, since they would bear the compliance cost.
Washington Post reporter Dan Morgan asked how agricultural interests had been addressed in the EU's climate system. Zapfel replied that EU agricultural interests played only a minor role in setting their climate policy because of the EU's long-standing common agricultural policy which creates stability. He noted that agricultural interests had not sought offsets.
William Ferretti of the Chicago Climate Exchange led off the second session, on the "practicalities of carbon trading." CCE manages a voluntary exchange which he said members join "in order to get ready for a federal system," to "provide accountability to shareholders about carbon footprint" and to "monetize their reductions." CCE also manages permit trading on RGGI, the Northeast states' Regional Greenhouse Gas Initiative. He touted the "price discovery" process of markets and supported the proposals in climate bills to increase the auctioning of permits over time.
Kevin James of Climate Change Capital criticized the UN CDM (offset) verification process as slow and "very poorly operated" and unlikely to provide enough verifiable offsets to satisfy the huge demand created by climate legislation. He also said participants in the offset market had misunderstandings. For example offsets produced in Brazil and sold into the market cannot be counted toward Brazil's reductions.
I opened my presentation suggesting that the most practical carbon market is no market at all. Then I read a snippet from Al Gore's "Earth in the Balance" (1992) advocating a "C02 tax completely offset by reductions in other taxes…" I showed the graph of historical price volatility in the EU ETS: volatility that enriches traders but can bankrupt or prevent the establishment of alternative energy firms. I described Stanford Law Prof. Michael Wara's finding that offsets in Waxman-Markey could delay U.S. emissions reductions for two decades, and I discussed the Carbon Tax Center's findings that Rep. Larson's proposed carbon tax with payroll tax reductions would produce roughly 2-4 times the domestic emissions reductions of Waxman-Markey or Kerry-Boxer.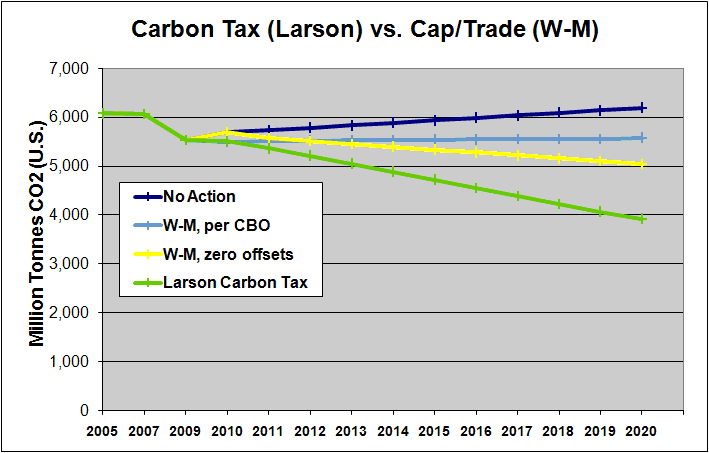 William Nitze (chairman of the Climate Institute and EPA Assistant Administrator For International Affairs (1994-2001)) observed that Congress has a regional problem: the southeastern U.S. is powered by "very cheap grandfathered coal fired power … their rates are in the around 5 cents per kWh while most of the rest of the country pays 8 cents or more." Nitze said that while "there's no getting around the need to raise fossil fuel prices," politicians will do their all to shield their constituents from price increases for as long as they can.
The Post's Morgan asked how Congress can gain support from agricultural states for climate policy without offsets or other benefits to agriculture. Zapfel said the EU hasn't faced this problem because agricultural interests have long been more protected in the EU. He suggested that some revenues could support forestry management and no-till farming in much the same way that the related practices of soil and water conservation are supported.
"I may be the one of the few [people] who actually enjoyed reading EPA's [proposed] greenhouse gas rule," Gray quipped. He noted that EPA is invoking the doctrine of "absurd results" in order to exempt millions of small sources of CO2. Since it would be "absurd," the agency reasons, to regulate so many sources, EPA's proposed rule would raise the threshold for regulation to 25,000 T/CO2 and thus restrict regulations to fewer than 1,000 sources. Gray cited the Washington Post editorial that the Clean Air Act is "breathtakingly unsuited" for regulation of greenhouse gases. The Post's conclusion, Gray observed, implies that the Supreme Court's decision affirming EPA authority to regulate greenhouse gas emissions is "breathtakingly wrong," a result he is confident the courts would reject. Thus, Gray expects the EPA rule to (eventually) survive legal challenges.
Photo: Cosmos Club, Erik Hess (flickr)