The Carbon Tax Center and the Climate Crisis Coalition issued this press release today:
[Washington, DC] "The revised Waxman-Markey climate bill is too watered down to qualify as a positive step for avoiding catastrophic climate disruption," said Dr. James Hansen, leading climate scientist and prominent advocate of a revenue-neutral carbon tax to curb climate change.
Hansen was referring to an announcement by House Energy & Commerce Committee Chairman Henry Waxman of a revised version of "The American Clean Energy and Security Act of 2009," the cap-and-trade bill known as Waxman-Markey, which now goes to markup in the Energy & Commerce Committee.
The revised bill's greenhouse gas emissions "cap" would aim to cut 2020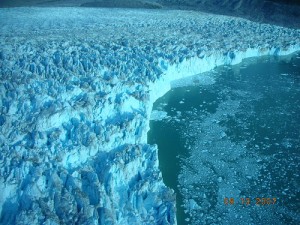 emissions to only 14-17% below 2005 levels, well short of the 20% reduction in the March 31 Waxman-Markey discussion draft. Many scientists have concluded that even 20% reductions by 2020 would be woefully insufficient to head off catastrophic climate change. The revised draft allows firms to purchase "offsets" amounting to almost half of current U.S. emissions.
Those weak reduction goals combined with large quantities of offsets would allow U.S. emitters to postpone substantial emissions reductions for at least another decade, according to Hansen. "The fundamental problem is that dirty fossil fuels are the cheapest energy," he said. "We must increase the price of fossil fuels steadily and predictably so that efficiency and renewables can supplant fossil fuels."
Waxman-Markey's "Proposed Allowance Allocation" released today takes the opposite approach, giving away 85% of allowances (emission permits), overwhelmingly to industry, assertedly "to protect consumers from energy price increases." But it's far from clear that handing free allowances to industry would "protect" consumers. Furthermore, any muting of price signals would undermine a key incentive to reduce emissions. Douglas Elmendorf, director of the non-partisan Congressional Budget Office testified to the Senate Finance Committee on May 7 that:
Firms that used [cap-and-trade] emission allowances for CO2 would generally pass along to consumers the cost of using those allowances in the form of higher prices for their products — regardless of whether the government sold emission allowances or gave them away.  Such price increases… would be the most important mechanism through which businesses and households were encouraged to make investments and behavioral changes that reduced CO2 emissions.
Waxman-Markey's provisions giving away carbon allowances to industry would leave far less money available to help consumers cope with higher energy prices, for example by recycling revenue back to taxpayers, through direct "dividends" or offsetting tax deductions.
President Obama often pledged during the 2008 campaign to require 100% auctioning of permits under a cap-and-trade bill, instead of giving them away for free as windfalls to polluting industries. As recently as last week, the Administration's OMB director, Peter Orszag suggested that there would be "no change" in that position.
Policy experts and a series of CBO reports also raise grave concerns about the tendency of carbon trading to increase energy price volatility, as well as the potential for "gaming the system" inherent in the approach. Economists and experts warn that trading allowances will spawn a lucrative secondary market speculating in derivative products which would further aggravate price volatility.
Clinton Administration Undersecretary of Commerce Robert Shapiro, who heads the U.S. Climate Task Force, recently wrote that after the Wall Street meltdown, carbon trading looks like a "dead policy walking." Both Hansen and Shapiro have urged policymakers to support a simpler and more transparent alternative of setting prices through a carbon tax which would increase gradually and whose revenues would be recycled back to taxpayers. This would raise carbon prices in an orderly, predictable way without subjecting consumers to price volatility and without delivering windfall profits to companies receiving free allowances or fueling speculative trading on secondary markets.
"Predictably raising the price of carbon-based fuels is essential to promote investment in low-carbon renewable energy and efficiency," said Charles Komanoff, economist and co-director of the Carbon Tax Center. Komanoff suggested that "We will need a range of policies to avert climate disaster, but without clear, orderly price signals, there simply is no hope of creating the economy-wide incentives we need to become a low-carbon economy."
"There is a time to compromise — to accept the best that you are likely to get. This is not one of those times," said Tom Stokes, coordinator of the Climate Crisis Coalition. "We understand the need to get behind an effective climate bill.  Dr. Hansen's scientific findings are serious and compelling. Waxman-Markey doesn't comes close to addressing the dire challenge we all face.  As a model for effective and fair climate legislation, we urge the Energy and Commerce Committee to take a hard look at Rep. John Larson's carbon tax bill, America's Energy Security Trust Fund Act of 2009 (H.R. 1337).  Larson's bill combines aggressive goals, quick implementation, predictable carbon fees and an equitable recycling of the revenues back to the people."
Photo: Melting Greenland Ice Cap by Gary Jordan (flickr)