Guest post by Heather Williams and Paul Baker:
For aficionados of offbeat road races, there are few events that top the Tour de Donut, a 30-mile bicycle race held every July in tiny Staunton, Illinois. In this belly-busting race, competitors stop twice during the course at break stations where they are offered glazed donuts. For every donut that competitors consume, five minutes are deducted from their scores. Thus, for even mediocre riders who also are really good donut eaters, the ride offers an offset structure that makes them champions. In recent years, with top competitors downing over 20 donuts each, winners have actually posted negative times, finishing their races—on the books at least– before they began.
Offsets, when measured not in donuts but in carbon equivalents, have about as much correspondence to real-time facts. Unfortunately, current climate change legislation being drafted in Washington, DC today is anchored in a scheme nearly as absurd as that offered by the glazed treat-loving architects of the Tour de Donut. But given that such legislation is supposed to safeguard the planet against an overwhelming environmental threat, there is some question about whether carbon cap-and-trade is the road we really want to take.
Meet Lieberman-Warner, the Sequel
On March 31st, House Energy and Commerce Committee Chairman Henry Waxman (D-CA) and Representative Ed Markey (D-Massachusetts) released a draft bill that nobly called for a steep 20 percent decrease in greenhouse gas emissions by 2020. The bill is touted as taking bold steps to address rising carbon dioxide levels in the atmosphere. The fine print, however, is what will cement the marriage of the U.S. economy to coal power, big agribusiness, and Wall Street investment banks.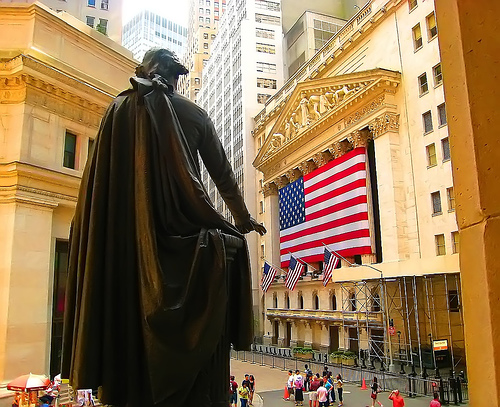 The bill will do this in three ways: first, by delaying CO2 reductions for up to a decade and a half through offsets, or contracts that are supposed to pay a third party to reduce carbon output on behalf of the polluter but rarely do so in practice; second, by subsidizing research and development on carbon capture and storage technologies that few experts believe are viable. Third, and perhaps most important, the Waxman-Markey bill and its counterpart in the Senate are likely to put in motion a climate derivatives market so big and so risky that the world may end up being forced to choose between propping up investment banks that have crawled back to life trading financial instruments based in fictional emissions reductions, or in actually regulating industry, agribusiness, and mining and physically restricting the flow of greenhouse gases to the atmosphere.
The rise of a cap-and-trade system for the U.S. economy, disastrously, intersects with an implosion of global financial markets. This not only means that government revenues are stretched, but also that  refugee capital suddenly unable to find profit margins in sub-prime mortgage securities or credit default swaps is seeking to securitize the trading of six billion tons of U.S. greenhouse gases in globalized climate markets. If the worst of Wall Street has its way, the bill will achieve little in terms of real reductions in carbon emissions, but will create a system of greenhouse gas-backed forward contracts, futures, swaps, and options that will probably start at a volume of $40 billion a year or more and will grow over time.
As a group of leading analysts advising Congress on cap and trade at the Duke University Nicholas Institute put it, "A low volume of allowances in the marketplace and/or significant concerns about allowance price volatility in future years may cause the majority of allowance-based instruments to trade as derivatives (including forward contracts) rather than allowances." (emphasis ours).  What is particularly notable about this report and many others like it is no one in the financial world seems to be questioning whether there should be a derivatives market in climate-backed instruments, but simply what the details of the trading rules should be.
Is another Wall Street casino and giveaway to big industry what we want from climate change legislation? We believe that anthropogenic climate change is indeed a threat, and therefore, the government's carbon reductions system must be transparent, independent of special interests, and able to send clear price signals to Americans about the relative carbon intensity of the things they buy. For these reasons, we urge Congress write a bill that works straightforwardly to address the forces that threaten our well-being and that of future generations.
Heather Williams is Associate Professor of Politics at Pomona College and can be reached at hwilliams@pomona.edu; Paul Baker is Professor of Earth and Ocean Sciences at Duke University and can be reached at pbaker@duke.edu. This post is a shorter version of an article in the April 15, 2009 edition of CounterPunch.
Photo: Flickr / Goggla.