The Kansas House of Representatives last night passed a bizarre tax on carbon dioxide emissions that would apparently apply to only one emitter — a single coal-fired generating plant — and would rebate the tax revenues to other power plants.
As reported by the Salina Journal, the bill passed by the House would impose a $37 tax on each ton of CO2 emissions in excess of 110 percent of the statewide average per megawatt-hour. The tax revenues would finance a credit that would be provided to coal-fired plants with the lowest emission rate.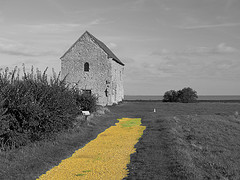 Republican supporters cloaked the bill in lofty rhetoric. The Salina Journal quoted Rep. Clay Aurand, "This is like a giant race to be the cleanest… If you win the race to become the cleanest, you get money."
The reality is somewhat less inspiring. The one plant that would be taxed is owned by the Kansas City Board of Public Utilities, based in Wyandotte County. Some Democratic House members called the tax "an attempt to punish Wyandotte County legislators who have opposed two proposed coal-fired power plants in southwest Kansas," according to the Joplin Globe.
Compare the Kansas tax with the Carbon Tax Center's proposed revenue-neutral $37 tax per ton of carbon on all carbon emissions, ramped up by that same amount for ten years. While our proposed tax level starts off well below the Kansas tax (ours equates to $10 per ton of CO2), our tax would increase each year. This would give energy producers and consumers a clear price signal that would encourage more efficient use of energy while also providing time to adjust to the higher prices.
Major flaws in the the tax passed by the Kansas House include: its application to only one plant; its excessive initial level that provides consumers no time to adjust; and lack of an upwards trajectory that would provide an appropriate price signal to energy consumers.
The flow-through of revenues to lower-emitting power plants is an ineffective mechanism to provide an incentive to reduce emissions and is a poor use of tax revenues. A comprehensive carbon tax applicable to all combustion of carbon in Kansas would provide an incentive for all energy sources to reduce emissions, whether relatively clean or relatively dirty. And instead of squandering the revenues on credits, they should be returned to to the people of Kansas through offsetting tax reductions or equal rebates.
The Kansas carbon tax may be a yellow brick road to riches for certain generators, but it's not a path to reducing carbon emissions.
UPDATE
Less than 24 hours after the Kansas House passed its strange variation on a carbon tax, it reversed itself today and rejected the tax. Perhaps the vote yesterday was just an April Fools joke.

Photo: Flickr / egrobichaud.