Interesting post in today's Gothamist about a far "greener" car than those described in today's New York Times (referenced in CTC's previous post).
The Gothamist points out that: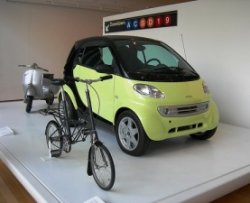 The Smart car has arrived in the States, and measuring at 8 feet and 8 inches long and 5 feet wide, the minuscule vehicle got some big attention in the Big Apple this week.

The car is around 3 feet shorter than the Mini Cooper, and could probably fit inside most of the gas guzzling SUVs in town. The 1800-pounder will hit the market stateside in early 2008, but will anyone want it? Business Week reports "Its base price is $12,000, and it's hard to beat the fuel efficiency of about 40 miles per gallon."
The question is whether buyers will fork over $12,000 for such a tiny car when they can get a much bigger car without spending much more. When a carbon tax internalizes the societal costs of carbon dioxide emissions, the Smart Car is going to look a lot more attractive to buyers.
Photo via the Gothamist and Cloudy Thought's Flickr.