Carbon taxes led the editorial page at two national papers this week, and both stressed the central imperative of raising fossil fuel prices to fight global warming.
"Putting a crimp on global warming can't be done solely by promoting new energy technologies and voluntary conservation," said the Christian Science Monitor. "Consumers of oil and coal need a direct tax shock."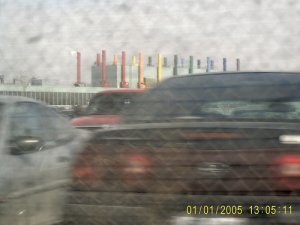 In the same vein, The New York Times asked that readers keep "one fundamental point in mind: we are now using the atmosphere as a free dumping ground for carbon emissions. Unless we — industry and consumers — are made to pay a significant price for doing so, we will never get anywhere."
We agree, and we applaud. Yet both papers stopped far short of full-throated endorsements of a national carbon tax. The Times editorial gave a clear nod to a carbon cap-and-trade system. The Monitor mostly bemoaned the hurdles to a carbon tax rather than push for overcoming them.
What gives?
How about faulty analysis (Monitor) and timidity plus wishful thinking (The Times)?
The Monitor's editorial conflates a carbon tax with a gasoline tax:
A carbon tax would, of course, raise the price of gasoline and home heating/cooling.

No wonder that no presidential candidate endorses [a carbon tax], especially with gas prices hovering around $3 a gallon.

Hillary Clinton says a gas tax is "hardly politically palatable at this moment."

The last time Congress raised the gasoline tax was in 1993. In the Senate, Gore cast the deciding vote. At the next election in 1994, the GOP won big on Capitol Hill. Politicians took note.
Whew! That's no small confusion. A carbon tax is not, repeat, not, a gasoline tax. Only a little more than one-fifth of U.S. carbon emissions come from gasoline (two-fifths are from making electricity). For every dollar raised from gasoline, a carbon tax would bring in four dollars from other petroleum products, natural gas and coal. (See CTC Slideshow, slide #23.)
This makes not just the impacts but also the politics of a carbon tax very different from those of a gasoline tax. A carbon tax can do a lot of good on CO2 and climate without coming down on like a ton of bricks on the family car(s). Moreover, households that burn lots of gasoline — and feel they have little scope to cut back soon — don't necessarily also guzzle coal-fired electricity.
Unlike a gas tax, a carbon tax is multi-dimensional. CTC will try to help the Monitor internalize the difference. We'll also work to correct their oversight of Sen. Chris Dodd, who has made a "corporate carbon tax" a centerpiece of his presidential campaign.
The Times' bow to cap-and-trade, meanwhile, genuflects to the 1993 Clinton btu tax debacle:
Over a decade ago, the Clinton administration floated the sound idea of a tax on the carbon content of various fuels, like coal and oil. A tax on carbon, the main greenhouse gas, would cause energy prices to rise, thereby curbing consumption and providing a powerful incentive to invest in alternatives. The revenue from the tax could be used, in part, to subsidize the higher energy costs for low-income Americans. But the idea went nowhere, and new taxes remain a political nonstarter, at least for now.
Goodness, that was fourteen years ago! Must we remind The Times of the sea changes in climate science and politics (not to mention post-9/11 awareness of the costs of oil)?
Coincidentally, or not, the early 1990s was also the era in which the U.S. cap-and-trade system for sulfur emissions kicked in, establishing the precedent cited by The Times as well as the U.S. Climate Action Partnership. But as we've noted elsewhere, the market for cutting acid rain pollutants bears as much resemblance to a carbon market as did a French mud hut to the Palace of Versailles, seeing as how a carbon market will be two orders of magnitude larger than the market in sulfur emissions.
We at the Carbon Tax Center would love to be able to endorse a cap-and-trade for carbon, even as a respectable second-best approach. For that to happen, however, cap-and-trade would have to be a lot less opaque, regressive, long-lead-time, subject to manipulation, and volatile than we, and many others, expect.
The closer one looks at both, the clearer the choice of a carbon tax over cap-and-trade becomes. We invite both the Monitor and The Times to look closely at AEI's cogent new paper and the LA Times' magnificent Memorial Day editorial.
Courage, friends.
Photo: Big Daddy 72 / Flickr