With the Trump administration cynically rolling back a decade of progress on climate and blocking new initiatives, advocates are searching for new avenues. Fortunately, there are promising opportunities at the state level. The Carbon Tax Center has released a new report that identifies states with the best prospects for instituting carbon taxes. State-based carbon taxes will create facts on the ground to build support with the public and lawmakers and make it possible to eventually get a robust national carbon tax through Congress.
This toolkit provides basic resources for groups and individuals to advocate for a carbon tax in their state. Many state lawmakers are concerned about climate change and — following the 2016 election — are more motivated than ever before to take bold steps. Please share this toolkit widely within your community, and contact us if you'd like to add resources specific to your state.
Table of Contents
"Why a Carbon Tax in . . . ?" Fact Sheet
When you start your campaign, it's vital to have key facts about the carbon tax that are easy to understand. Since not every person you want to mobilize will have the inclination to read the entire state by state report, show them the highlights by creating a factsheet to distribute to lawmakers, journalists, and potential new members of your campaign.
Download a version of a sample fact sheet here.
Letter to the Editor
Legislators and other decision makers pay careful attention to the opinion pages of local newspapers and online media outlets. One of the easiest ways to make your voice heard is to write a Letter to the Editor explaining the importance of a carbon tax in your state and calling on decision makers to support one.
Most publications have a page on their website explaining how to submit a letter to the editor, and any word limits, usually between 150 – 300 words.
A good letter to the editor is succinct, and it responds to a recent news story or topic of conversation. There's a sample below. Once you get your letter published, be sure to spread it far and wide through email and social media, and encourage like-minded advocates to send it to legislators and call them to ask if they've read it.
View a sample letter to the editor here.
Press Release
Be sure to alert the local press of your carbon tax advocacy work. Spend some time identifying which reporters are covering state-level politics and environmental issues. You can send them short emails to introduce yourself or inform them of upcoming events, or blast out a press release to a list of journalists once you've established one. Below is a sample press release you can adapt to announce your campaign for a statewide carbon tax.
Petition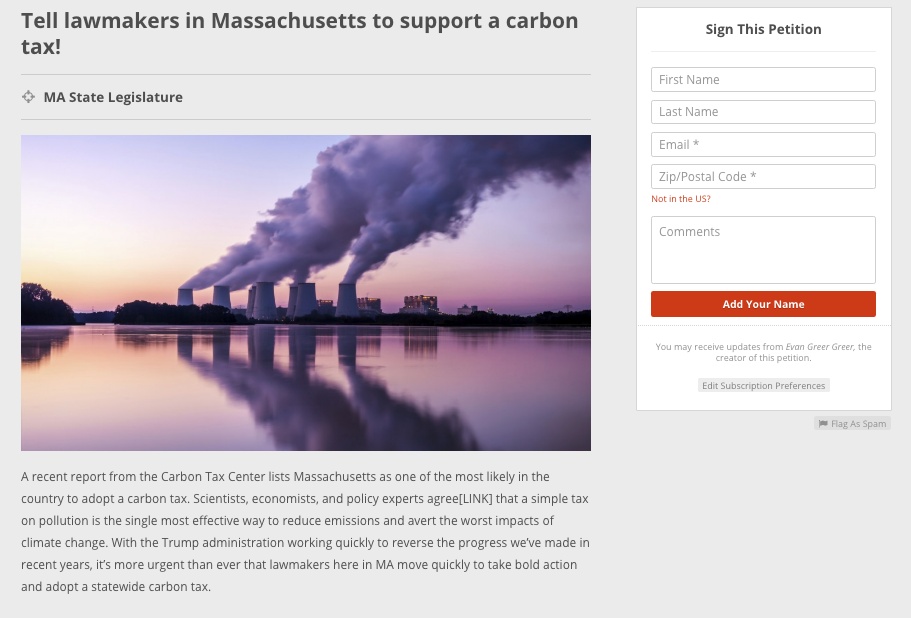 One of the most basic tools in your activist toolkit is a simple online petition. It's a way to announce the presence of your campaign and start gathering support. Petitions are not only a great way to pressure lawmakers and get the media to pay attention, they're also a tool for building an email list of supporters whom you can contact for future campaigns.
If you don't already have a way to set up petitions and send emails en masse, try setting up a free account at Action Network, which makes it very simple to make petitions, RSVP forms for events, and resources to support your climate activism. Below is some sample text for your first petition.
Once you create a petition, promote it heavily to all of your email contacts and through your social media accounts. Ask local environmental and social justice organizations to share it on their accounts as well. If you collect signatures in person on paper, be sure to add them manually to your digital petition so that you can email and follow up with those signers.
Update the signers of your petition frequently and ask them to share it with their networks as well. Once you have a solid number, alert the press, and deliver the signatures to your target, either in person or via email.
Using Twitter and Sample Tweets
Why Twitter?
Twitter allows your message to reach thousands of people easily, all connected with a single hashtag. Policymakers, experts and "influencers" in local communities are often more accessible on Twitter than in real life.  To push a statewide carbon tax closer to reality, use Twitter to share your message.
Key Tips:
— Find out if your targets/policymakers are on Twitter — learn their handles (their Twitter names) and tweet at them about why a carbon tax matters in your state.
— Engage reporters in your state who cover climate, energy, environment and state and/or national politics. Retweet their stories and engage them around different key parts of why a carbon tax would work for your state.
— As you gain supporters, work with your team to get as many people as possible on Twitter, creating a major network of engaging with your target and other influencers.
— Find the key environmental groups in your area, follow them, and engage with them.  Let them know that you're working towards establishing a carbon tax in your state, and share the key resources (including the report) that CTC has prepared.
Sample tweets:
Eight states have the best prospects for passing a carbon tax — [YOUR STATE] is one of them.  Let's take action to make a carbon tax a reality:  [link to petition].
We could have a carbon tax in [YOUR STATE], and we must if we want to stop climate change.  Take Action today: [link to petition you've created].
Sample graphics for Twitter: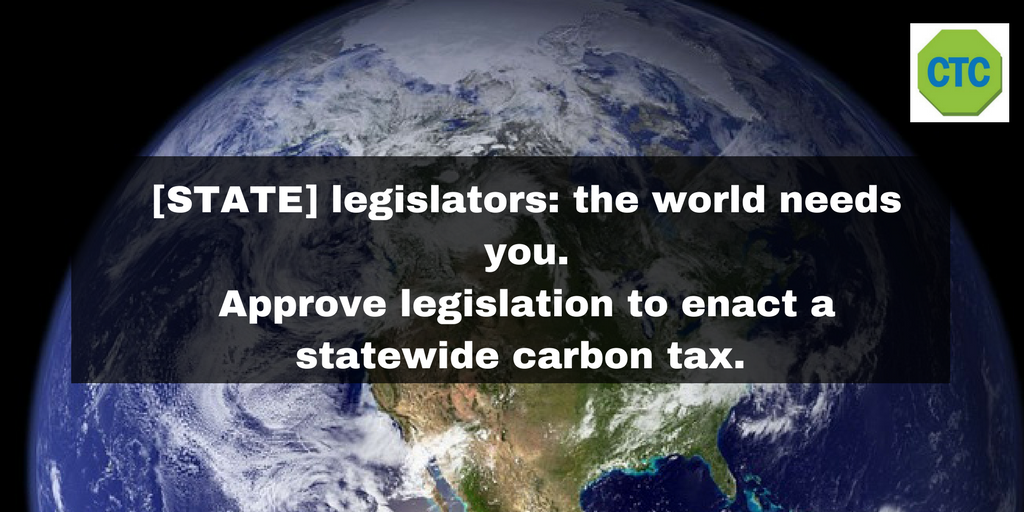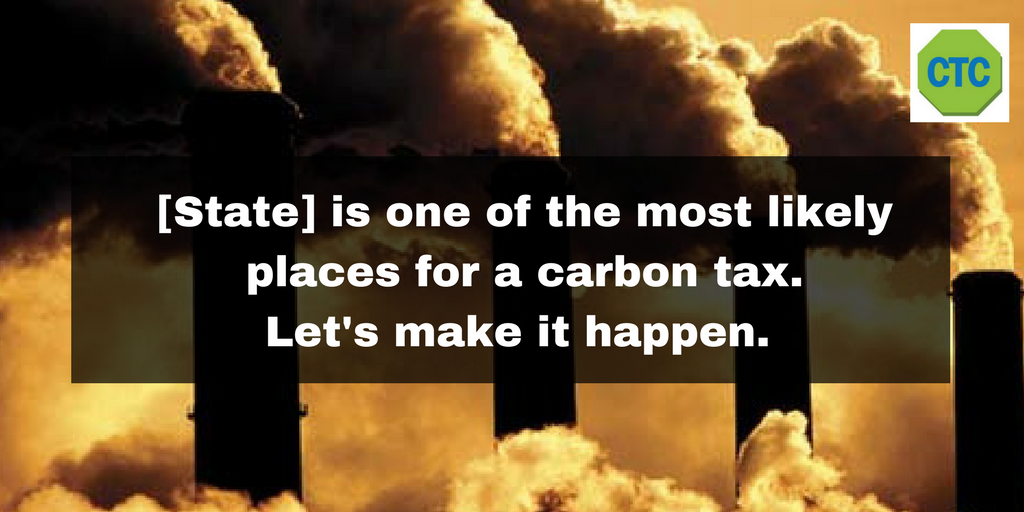 Suggestions for Escalation
Once your campaign for a state carbon tax launches, you'll need to keep the momentum going. A critical piece of organizing is escalation — using tactics that put more and more pressure on your targets until they meet your demands. These tactics may be useful once your campaign has started:
Call-in campaign
Put the pressure on by having people call the office of representatives or policymakers and express why the carbon tax is so essential for your state.
Packing hearings / public forums
Make sure that you, and all of your supporters, show up as much as possible at town hall meetings, city council meetings, and related hearing.   When your targets see how much public support you have, they'll be more likely to take the campaign seriously.
Public protest / vigil
Climate change is serious and worsening, and we need immediate change.  Connect the climate challenges facing your community (be it drought, flooding, crop damage, forest death, etc.) to the need for a carbon tax, and hold a public protest or vigil outside key locations for policymakers.
Sign on letter from local business leaders / experts
State legislatures can often be swayed by experts and business leaders — enlist key players in your community to convey the need for and urgency of a carbon tax.
Educational / cultural events / movement building
Don't wait for policymakers to plan an event — plan your own!  Because the carbon tax can appear complicated at first, it's important to make sure that both organizers and policymakers have a clear sense of how it works and why it matters. Hold a panel, film viewing or open discussion on the carbon tax, and invite key stakeholders.–
Got questions about organizing toward a carbon tax in your state? Contact the Carbon Tax Center.